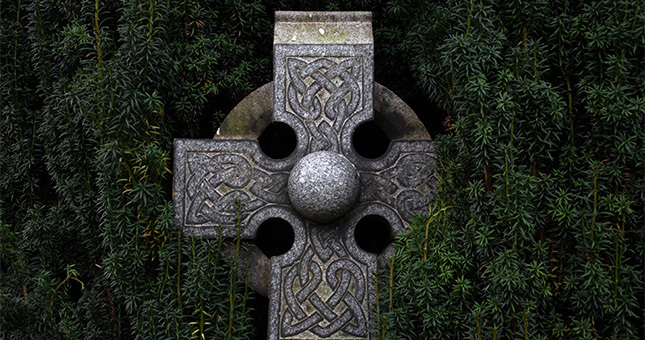 December 07, 2017 / Issue Volume 29, Number 2, Fall 2017 / Profile
The School of the Parish
Julie Canlis teaches at Whitworth University in their theology MA program. She received a Ph.D. in Theology from the University of St Andrews and a Masters of Christian Studies from Regent ('00). Along with Matt, she has been instrumental in the writing of, and the small group curriculum for GODSPEED, a short film that explores the pace of life in Christ. Julie's recent book, A Theology of the Ordinary, helps us understand theologically why our ordinary lives are the only place where our faith can be lived out.
Learning to Live a Theology of the Ordinary
When Matt and I graduated from Regent, we headed off to Scotland thinking that the next phase of our schooling would be centered on the PhD program at the University of St. Andrews. Instead, what we entered into was a much longer and more colourful school which we now affectionately call "The School of the Parish." It wasn't that our ministry training at Regent needed to be undone, but it needed flesh and ordinary lives and cups of tea with octogenarians to really take root. It needed, to use our favorite quote by Eugene Peterson, "to move into the neighborhood." But we also needed the neighborhood (or "parish") to move more deeply into us.
It all started when, half-way through our postgraduate studies, we ran short of cash and Matt landed a job as a "parish assistant" for the St. Leonard's Church, on the edge of the town of St. Andrews.
At this time, we knew little about parishes or their becoming the front line of the Reformation in Scotland. We soon learned that in those times, each geographical district was divided between parish churches, and each church's physical geography was partitioned out between elders whose job was to be connected to each and every person on the land. To be a pastor, first and foremost, was to be the one in touch with the land and its people.
On his first day on the job, as a good American accustomed to churches with offices and photocopiers and desks from which to conduct ministry, my husband asked Rev. Alan MacDonald,
"Where's my office?"
"Your office?" Alan responded.
Feeling instantly humbled for his presumption, Matt quickly changed tact. "I mean—where is your office?!"
"My office?" Alan again inquired. And then, pointing down the street, Alan said, "That's your office. Start walking. Get out into the parish."
So Matt began walking—and thus began his schooling as well. What the parish model fights is the elevation of ministry to something other than that which is occurring amidst ordinary people and their ordinary lives. Its DNA is composed of small-town small talk, peoples' pain, Boy Scouts' soup fundraisers, the Veterans March to the war memorial, talking endlessly about the weather and its impact on the barley harvest, little transformations between husbands and wives, and little deaths as well. It harvests the fruit of peoples' lives and offers this very ordinary compost (and sometimes it stinks) to the creator who is endlessly creating, redeeming, transforming. This is God's great joy and, over the years, we discovered parish life to be a participation in this endless creativity.
As all this was happening on a pastoral and personal level for Matt, I was frantically finishing my PhD on Calvin. (My oral exam had to be paused in order to nurse our newborn daughter, to the encouraging cheers of a two- and four-year-old). Here too, I was stepping into a theology of the ordinary as relentless as Matt's journey into the parish. Although I had known that one of the hallmarks of the Reformation had been to "democratize" spirituality (making deep piety and spiritual life available to not just the not-so-celibate contemplatives but to every ordinary person), I did not understand the Trinitarian structure for this.
Calvin opened my eyes to how the Trinity is our framework for hallowing our ordinary existence. Only when we plumb the depths of the Father's ecstatic blessing on ordinary life (as exhibited in the creation narrative), and contemplate the Son's joining himself fully to ordinary life (as the means of our redemption), and appreciate the ways that the Spirit works within our ordinary life (to usher in the new creation) that we can resist the trend to downgrade our normal human existence as exclusive of the sphere of God's glory.
Have you ever been struck by the domesticity of the incarnation? When He comes to earth, God places Himself not in a palace but in a family. Faced with a world going to hell in a hand basket, God's rescue mission is ... to be born? How ordinary is that? It is here, in the confines of a little family, unnoticed by the whole world, the new creation has begun. … This is how God works. This is His rule, not the exception. God enters into creation and engages with us there on creation's terms. God works with our regular responses to Him in our ordinary lives. Mary's visitation by the angel was extraordinary—to be sure—but no more extraordinary than the life of a girl who had already habituated herself to surrender, over and over again, to God in her daily life.[i]
These theological insights, combined with staying at home, raising four children, and teaching Sunday School to a motley group of 6–10-year-olds, completed the School of the Parish. We found ourselves in the midst of a tiny village in Aberdeenshire, with Matt as the "parish minister" whose primary calling was to participate in God's creativity with a certain rolling patch of land and its people. Our mission wasn't to change the music, or exchange pews for chairs, or stop the unholy alliance of the village "jumble sale" on church grounds on a Sunday, but to slow down to the speed of a village whose currency was relational. The easy thing would be to change the things we didn't like; the hard thing was to allow people to see that God could work with what (and who!) was already here. Slowly we trying to import new ideas, and instead got to work uncovering the holy ground beneath our feet. And in this setting, armed with a clerical collar and good walking shoes, the gospel became very good news.
Or perhaps another way to put it is that our parish taught us to live at Godspeed. If Jesus was going about his business of saving the whole cosmos at the pace that a human walks, then perhaps Godspeed is slowing down to catch up with God. Our parish was marked by a certain geography that became our ally, limiting us in ways that also focused us. Matt was responsible for a particular piece of land, with its unique farming and people, with its own church music, and its own particular way of making scones. It was a sacramental gift that allowed us to experience the presence of God in a particular way, in a particular place and time. And, with the Psalmist, we were finally able to say "the boundaries have become pleasant places…"
We are now back home in America, living near family, and discovering the geographical "allies" that are here in our much larger parish of Wenatchee, Washington. These allies are the YMCA gym, a local coffee house, the local Catholic priest and his parish, a women's shelter. Matt has a cell phone (and an office!) but is trying to stay rooted in the ordinary places and people that are here. They are like sacraments—physical gifts given to us to make God's life more present, and less . We are discovering that life at Godspeed is not just about slowing down, but learning how to stay rooted physically in Christ, whatever our pace.


---
[i] This excerpt is taken from Julie Canlis's book, Theology of the Ordinary, Godspeed Press, 2017.