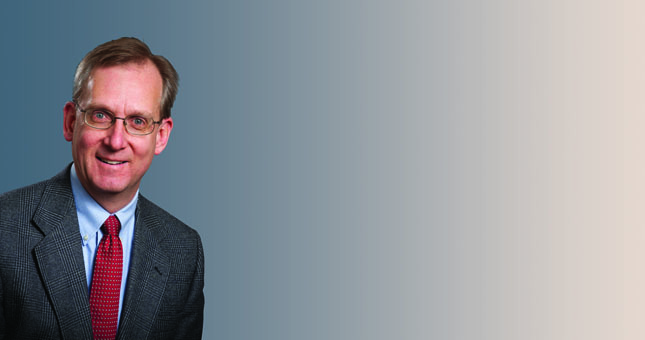 September 09, 2013 / Issue Volume 25, Number 2, Fall 2013 / Profile
Introducing Jeffrey Greenman
No Missteps Along the Way
Jeffrey Greenman was appointed the academic dean at Regent College in July. Before Regent, he held positions at Wheaton College, Tyndale Seminary, and African Enterprise. Jeff has a passion for academic leadership, global Christianity, and has been a fan of Regent since his time as a student here in the mid 1980s. We sat down with Jeff to get to know our latest faculty member a little better and introduce him to the Regent world.
RW: One of your first activities upon arriving at Regent College was co-hosting the World Christianity conference. Can you describe your journey with the global church and your interest in world Christianity?
JG: My way of entering into the great reality of world Christianity was not by reading books so much as by knowing people, hearing their stories, asking them questions, sharing in the church's work worldwide, and wrestling with what I was learning from these experiences. For instance, as a student at Regent College, sometimes I'd come out of class with people from all over the world and hear them say, "But that's not how it works in my part of the world!" In talking with them, I learned so much. After completing my MDiv, I became the first Canadian director for the ministry of African Enterprise. That was where I fell in love with Africa and African Christianity. While working at Wheaton College, I took on the joy and challenge of teaching world Christianity. There, in a sense, the academic study met up with my experiential, personal, and relational side of
the journey.
RW: What are some challenges you've encountered in teaching world Christianity?
JG: The worldwide church is a very big complicated reality. We have to become skilled at listening and learning a new way of talking in a new context. The reward comes by thinking deeply, slowly, and patiently about what it is we can gain from our brothers and sisters around the world, rather than looking for an immediate fix to our problem. Newcomers to the discussion can move in two directions: either accept everything uncritically or reject everything knee-jerk style. I don't think either one of those are very good strategies. If all theologies are inherently contextual, we're going to have to think deeply into every situation out of which these thoughts arise in order to understand them in the first place. Patience, humility, and listening are virtues to cultivate. Not everything is good, not everything is bad; everything is worth engaging with seriously from the standpoint that we have a lot to learn.
RW: What's something you've personally learned through your encounter with other cultures and your study of global theology?
JG: Two themes that come through global theology very strongly that have influenced me arise from Latin American theology, especially from evangelical leaders there. First, a commitment to the praxis of faith. It's not a matter of thinking the right thoughts that sums up theology—it's a matter of a changed life and faithful action. Second, we're very individualistic in the West. We think of theology as what someone does alone in their study carrel, rather than a circle of people sitting together, opening the Scriptures, and asking questions about the meaning of God's Word for us as we live out our faith in tangible, everyday terms. Theology has always been a communal enterprise. These themes really make a difference in the agenda I have for my own work and teaching.
RW: Your time as a Regent student clearly impacted your understanding of and love for the global church. How else did it change
your life?
JG: I came to Regent on the recommendation of Michael Green, Don Sweeting, and Jim Houston, but when I arrived, I didn't really know what my vocation was. I had two groups of people in my life. One group said, "You have all the gifts to be a pastor," and the other said, "We need you as a leader in public life." At Regent, I discovered a sense of vocation that shaped my life, largely through being Carl Armerding's TA when he was Regent's Principal. During that time, I went in a new direction, neither entering pastoral leadership nor returning to the world of public policy and politics, but embracing academic leadership as my vocation. Apart from people like Carl Armerding and Ward Gasque investing in me, I'm sure I wouldn't be sitting here today, let alone do the things I've done over the past twenty years. I tend to cross over a lot of defined categories. I defy them as much as I can—not to be provocative—it's just part of how Regent shaped me and my subsequent ways of thinking, teaching, and writing. I don't see theology, ethics, spiritual formation, leadership, and administration as separate things; I see them as part and parcel of one thing that I've been called to do.
Another very important part of those years, of course, was meeting my wife Janet. She had taken one year out of her medical degree to study at Regent and went on to do her residency at UBC. We belonged to the same circle of friends and became interested in each other, but we were very under wraps about it because during orientation, Laurel Gasque gave a speech called, "How Not to Waste Your Time at Regent." She warned us that "too many people waste their time at Regent looking for a spouse when they should be looking for God, studying God's Word, and discerning their calling." Janet and I made sure we stayed a long way away from Laurel Gasque lest we be seen to be wasting our time!
RW: What advice would you give Regent students who are in the process of vocational discernment?
JG: Vocational discernment comes out of the blending together of personal and communal reflection. I'm a very strong proponent of mentoring and I think every Regent student should hope and pray for one or two people on an ongoing basis to be a mentor to them. I certainly had that experience here and I hope to do the same for others.
I'm very resistant to the idea that career equals vocation. We tend to want our careers all mapped out and ask what job we should take, which is a totally different question in my mind than what your vocation is. I see vocation as a relational category and career as a functional category. Career can be an expression of one's vocation in a very harmonious way, or not at all. But the thing is to try and discern how God has made and equipped us, and what he wants us to be doing in his service. I don't think mapping out your entire life every year from now until your end is necessary—it can be paralyzing.
Instead, I would recommend a kind of sanctified trial and error. I went to Washington, DC to test out whether I was called into the vocation of leadership in public life. That wound up not being the avenue for me, but I wouldn't trade those two years for anything—they were very valuable. I think people should look to God's providence joyfully and hopefully and say, "There are no missteps along the way." Everything is being worked together to prepare you for that next step. It's a journey and path that you walk with God.
RW: What led your path back to Regent after so many years?
JG: I'm delighted that all things have come full circle. I really love Regent and what it stands for. I'm very much a beneficiary of everything good that Regent is about and the kind of unique genius of the things that Regent holds together so wonderfully. This is a chance to give something back.
RW: How would you describe your role as academic dean and what is something you're looking forward to in this role?
JG: The role of academic dean is to be the leader of the faculty and provide academic oversight to the institution. All the programs, policies, and procedures are under the supervising eye of the academic dean to enable the student experience to be the richest that it can be. I have a deep sense of vocation to help equip institutions to be as effective as possible in reaching their mission. I take delight in seeing the impact of this education on students and I love working with faculty to help them achieve their goals. It's great fun!
I know in my day as a student, relationships with faculty were very transformative—a lot of that was spent going for walks or having meals. It's an important sense of my calling to be part of students' lives and not always tucked away in an office. I can't just go to meetings all the time! I'll be teaching every semester, involved in community groups, and participating in chapel. My wife and I hope to have lots of people over to our home. Regent students have always been the best part about Regent, and we look forward to getting to know them.