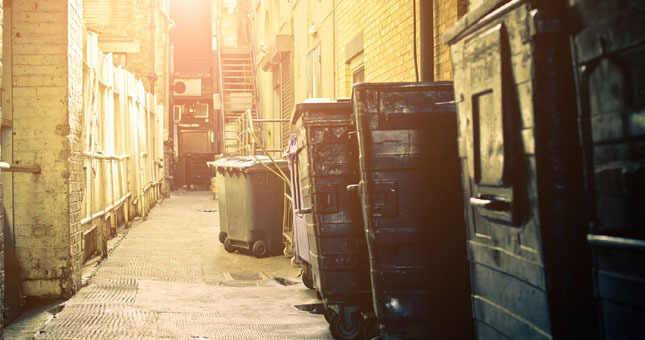 May 01, 2014 / Issue Volume 26, Number 2, Spring 2014 / Profile
Finding Grace in Unlikely Places
In 2010, I found myself at Regent with very little direction to my life. I had finished my nursing degree, worked for a time as a ward nurse in Calgary, and had absolutely no idea what I wanted to be when I grew up.
My first degree was in development studies with a focus on international development. It led me to a lifetime of experiences all packed into a short amount of time, full of internships and overseas adventures. I returned from these trips with much less idealism about the non-profit community, and I wondered how best to serve God overseas. I decided to go into nursing, the most caring profession I could think of. As a nurse, I could also gain skills that I knew I could use to make a difference at home and abroad. I longed to work with "unreached" communities, providing healthcare and demonstrating the love of God. My imagination stretched from country to country—never sure of where I might end up, but coming up with clear possibilities for each. One thing I knew—I never expected to end up right here at home in Canada.
At the suggestion of a few friends and mentors, I decided that I needed a deeper academic understanding of my faith if I was going to pursue missions work. I hadn't become a Christian until university, and I longed to learn how to read the Bible with the depth and understanding that context brings. I also wanted to take a personal journey of faith—to seek God through academics while also looking for him in the world. I decided to move to Vancouver and attend Regent College.
I knew I had to find a job to support myself while studying at Regent. While I enjoyed the personal relationships of ward nursing back in Calgary, I also knew that the workload and pressure were unsustainable for me. I hated having to sacrifice my caring side for my task-oriented side in order to ensure that the patients survived. Combining my restlessness about work with my longing to know more about God, I decided to try something new when I moved to Vancouver. Instead of taking a hospital job, I called the nurse recruitment line for Vancouver's Downtown Eastside. They informed me that if I wanted to work at a clinic there, I would also need to be cross-trained at Insite, the supervised injection site. I agreed, hung up, and then panicked. To me, the act of giving out clean needles to addicts and watching them shoot up seemed morally wrong and counterintuitive.
When I had my interview with Insite, I blurted out my concerns. To my surprise, the interviewers laughed and said my bluntness would probably fit in well. I was offered the chance to try a test day. I decided to take the chance, stubbornly convinced that I would not do anything that was against my faith or my ethics as a nurse.
On my first day at Insite, I realized that my judgments of their work were based on misconceptions and fears. Handing clean needles to people suffering from addiction really meant that I had hope for them—that even in their darkest moments, I loved them and wanted them to be safe. It was incredibly powerful. The relationships that staff had built with patients showed immense love and grace. In fact, Insite was the place where I first came to understand grace on a deep level. The free exchange of grace that I found at Insite deepened my own faith, and was completely in line with what I was learning at Regent about God. Here were broken people showing their worst side and receiving love instead of condemnation. Practically speaking, I found that extending love and grace was the best way to break the cycle of addiction. I saw patients breaking free of this cycle solely because they had been loved even while using drugs. I saw people realizing they were loved after years of abuse and neglect. And I saw moments of justice for people who had lived their lives oppressed. In short, I saw miracles happen every day.
I realized my passion lay in specializing as a nurse in mental health and addictions, a journey that began concurrently at Regent and Insite. My passion was borne not of social justice nor of harm reduction, but of seeing God working unrecognized among his people. I had the privilege of seeing Jesus daily, learning about the Father's love, and knowing that the Holy Spirit was moving me. I experienced the Trinity in a way I had never imagined. How could I not become passionate about this? Speaking up about harm reduction, addictions, and grace has become an incredible source of joy for me. Nothing compares to how powerful it is to see God, tell others about him, and have them see him too.
I found my vocation by searching out God in strange places, then showing others how to do the same. I currently work in my hometown of Calgary. Part of my time is spent working on the ground with patients who are struggling with addiction. The other part of my time, I spend as an instructor with the University of Calgary Faculty of Nursing, teaching students about mental health and addiction. The truth is, there are any number of positions in my field that I could happily do. What I learned at Regent is that it isn't the structure—it's the heart that matters. God's work among the addicted has stolen my heart, and his love for them continues to amaze me. I am blessed to love my field and my work, and I am grateful that God continues to disrupt my best-laid plans in order to help me fulfill my potential.