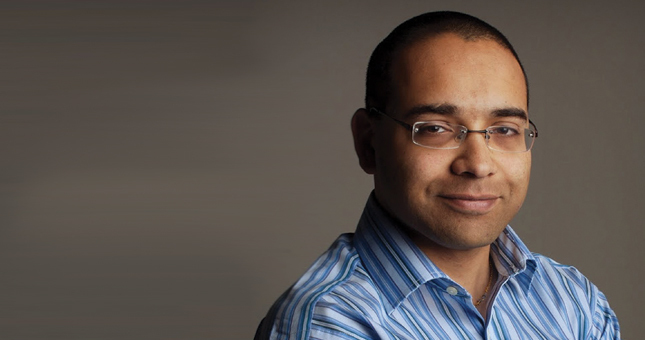 September 09, 2013 / Issue Volume 25, Number 2, Fall 2013 / Profile
Doing Discipleship Differently
A Conversation with Krish Kandiah
In June, Krish Kandiah taught a course at Regent College called Holistic Disciple-Making for the Third Millennium. Krish is the Executive Director of Churches in Mission and England Director for the UK Evangelical Alliance. He lectures on evangelism at Regent's Park College at the University of Oxford. We asked him to comment on the importance of re-evaluating discipleship in the church today and how it ties into global Christianity.
RW: What was the impetus for your discipleship course?
KK: Two main drivers led to this course. First, studies have shown large numbers of young people in their 20s and 30s are leaving the church. The Evangelical Fellowship of Canada conducted a study called "Hemorrhaging Faith" that reported only one in three young adults who attended church weekly as a child still do so today. The church's failure to adequately disciple and transition young people into adult faith has contributed to a missing generation, which poses serious concerns for the future of the church.
The second driver is that we're not seeing the church make a significant impact in the world. James Davison Hunter writes about this in To Change the World. He compares the church to both Jewish and gay communities who have smaller numbers yet a bigger influence in the arts, media, academics, and culture.
These two factors lead one to ask, "What's gone wrong?" I would argue the church has failed to disciple people for the whole of their lives, increasing the young adult drop-off rate and lessening the church's cultural impact.
RW: You begin your course by looking at genocide and the discipleship deficit in Rwanda. Why structure your course around this context?
KK: In 2010, I attended the Lausanne Conference on World Evangelization in Cape Town. Antoine Rutayisire of Rwanda gave one of the most challenging presentations I've heard. He used his native country as a case study for discipleship gone wrong. Rwanda was at the core of the East African Revival in the 1920s and 30s. By 1994, 90% of Rwanda claimed some kind of Christian faith and the country was held up as a model for explosive church growth, missionary engagement, and the successful Christianization of a nation.
That same year, however, the genocide occurred, killing nearly one million people in one hundred days. Statistically, this meant Christians were killing Christians. While many complex political, social, and economic factors converged in this horrific event, the church should look at its involvement and ask, "What went wrong with our discipleship model here?" I ask this same question in my course, examining discipleship in various local and global contexts. Antoine's talk on Rwanda is essentially the launch point for this discussion. He graciously but firmly challenges the Western Church to consider the gospel we bring to other nations.
RW: What are some problems with the way Western Christianity presents the gospel to other nations, and how does your course address these concerns?
KK: In my course, we unpack the danger of an emaciated gospel that reduces the call to discipleship. Our standard gospel presentation seems to be more interested in escaping the world than living in it. Both in the West and in our missionary endeavors, we have presented a gospel that primarily emphasizes the individual and God, but has little to say about our vocation in the world as neighbours, culture makers, or citizens. We end up preaching a reduced gospel that leads to a reduced vision of discipleship.
The course I teach tries to recover a more biblical and holistic gospel that culminates not in an evacuation of our planet but an invasion of God's kingdom on earth. I make space to listen to non-Western thinkers like Antoine Rutayisire in Rwanda and Orlando Costas in Latin America. Listening to alternative, indigenous voices is vital as it is the height of arrogance to assume that we don't need to draw on the wisdom and experience of our global brothers and sisters. We need to listen with humility to both their encouragement and critique so we can engage in honest, meaningful dialogue.
RW: How does the Western Church do discipleship today and what are the benefits and challenges with our current model?
KK: Part of the problem is we are so divided as evangelicals. Good things are happening in the different "evangelical tribes" [streams and denominations], but we don't all listen and learn from one another. In my course, we examine various discipleship models plotted on a quadrant: the individual versus the community, and retreat versus engagement. A model built solely on the individual emphasizes retreating from the world through things like fasting and solitude. This approach can turn into escapist pietism and leave a large number of problems in our world untouched. Another model prioritizes the community, but even this tends to be a community that retreats from the world. A third school practises disciple-making by focusing on an individual's vocation, which ties into Hunter's book that failing to equip Christians in our vocations lessens our cultural impact. A fourth method highlights the missional church living intentionally and visibly for the sake of helping the community, such as the poor. While this approach covers social justice issues, it risks ignoring the workplace. In summary, none of these models work well on their own, but all four can work very effectively together.
RW: Are these different tribes geographically located?
KK: No, they're more theological than they are geographical. It's difficult to base it on geography alone because, for instance, lots of theologians and pastors we listen to in my course are from the Two-Thirds World but have their training in the Western world, so are they considered Two-Thirds World theologians or Western theologians? The benefit of globalization is that we have an opportunity to listen to many alternative voices, but the negative side is that it's hard to find an untouched people group that hasn't been influenced by some form of Westernization. I noticed this when I worked as a missionary in Albania. Albania was the world's most atheistic country—it had banned all forms of religion. When it opened to missionaries in 1991, loads of good changes were brought in, but sadly, tribalism was exported too. We tend to package our particular tribes' discipleship model globally, so geography isn't the only consideration in whether we're listening to alternative voices.
RW: Does the Two-Thirds World do discipleship better?
KK: There isn't one model that's working brilliantly somewhere and which should be exported to other parts of the world. The reason being is that disciple-making is contextual. It should look different in different places. The West tends to have a standardized approach to everything. Our discipleship courses are a bit like sausage machines where we feed a pig into the machine, some magic happens inside, and out comes a sausage. Similarly, we employ these "discipleship sausage machines" in different countries, thinking that in will go an indigenous, new Christian, and out will come an indigenous, mature Christian. The process is a lot more organic than this—it's a constant conversation between the gospel, Holy Spirit, and culture to which we're being sent. We can learn from the ways other groups around the globe contextualize disciple-making so we can contextualize disciple-making in our local contexts.
RW: Is the conversation about disciple-making happening in churches today? Do you see hope for change?
KK: I think there is a growing sense in our churches that our disciple-making is deficient, and there are lots of good changes happening out there. In Ealing, England, for example, a professional scriptwriter is mentoring a young adult who is also passionate about writing. They meet around their shared craft, then bible study and prayer naturally flow from that. This discipleship model, in contrast to a pietistic approach, addresses the need for multigenerational relationships—the lack of which is mentioned in studies as another reason why young adults are leaving the church. Our model of children and youth discipleship is segregation when it should be integration.
If our churches don't embrace multigenerational, multiclass, and multicultural discipleship, we're missing out on what Paul describes in Ephesians as an opportunity to demonstrate the "manifold glory of God." Diverse churches are healthy, faithful to Scripture, relevant to culture, and a visible sign of God's kingdom on earth. I feel there's great hope if we can set aside our tribalism and work together in getting the whole church to engage with the whole gospel and the whole world.
---
If you would like to hear more on disciple-making from Krish, check out his three books on the topic: 1) Route 66: A Crash Course in Navigating Life with the Bible, 2) Bible Dysciples: Why I Fall Asleep When I Pray and 12 Other Discipleship Dysfunctions, and 3) Twenty Four: Integrating Faith and Real Life.
Follow Krish on Twitter @krishk and visit his blog at krishk.com