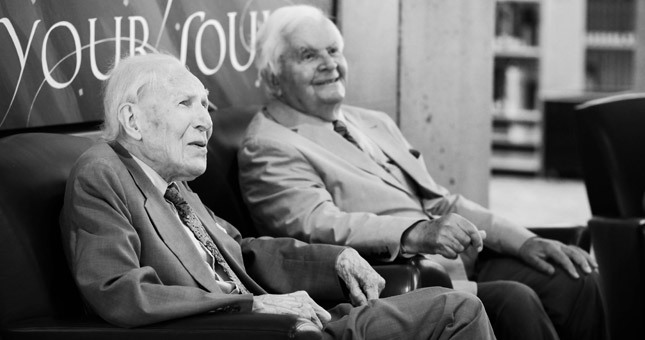 November 17, 2020 / Issue Volume 32, Number 2, Fall 2020 / Profile
A Tribute to Dr. Packer
Dear Jim was my longest friend, dating from our first meeting at the Oxford Inter-Collegiate Union, or Inter-Varsity, in October 1947, where I was the senior member, just commencing to lecture there, and Jim was an undergraduate student in Classics. He was browsing in the small library, that the O.I.C.C.U., or Oxford University branch of Inter-Varsity, had on campus, and immediately discovered John Owen was appointed Chancellor of Oxford after the Civil War by King Charles. He read Owen's Commentary to the Hebrews, and it so enthralled him that he read and re-read the Epistle to the Hebrews four times that Sunday. Jim had been brought up in a nominal Anglican family, but now his faith journey seriously began.

As John Owen was the prince of the Puritans, Jim chose as his doctorate thesis a comparative study between John Owen, robust interpreter of justification, and the rather weak interpretation of Richard Baxter. I think that when Jim shared with me a seminar on the Cistercians and the Puritans, it astonished him why so many students chose to present an essay on the Cistercians! Then one day he confessed, "Now I've got it, Bernard of Clairvaux was the first of the Puritans!"

Like John Owen, Jim was an ecumenist. After the war Jim joined a group of avid Puritan admirers for an annual summer conference in the Cotswolds, near Oxford, that had been convened by Dr. (Martin) Lloyd-Jones, who had been assistant to the King's physician. He would travel at weekends to do pulpit supply in Wales.

The original Puritans were proud of being called "precisions" because they claimed, "Our God is a precise God." Jim had that extraordinary clarity of mind, so he never revised his script! It was crystal clear that needed no editing, as his classic, Knowing God, so wonderfully manifests. His routine was to take a morning walk in an old pair of brown shoes he had (handmade by a famous shoe shop in Oxford before he came to Canada), then go home and type out his thoughts on an old typewriter he had also brought across the seas. His son offered to buy him a computer—much speedier for his writing—but Jim scorned the suggestion of having new-fangled technology.

Jim was a true ecumenist. After the war, Dr. Lloyd-Jones convened a meeting of the Puritan admirers to announce they should separate as Evangelicals from the Church of England and other denominations in order to create a new denomination. United, Jim Packer and John Stott and others rejected the very idea of separation. This was hard on Jim because Lloyd-Jones was like a spiritual father to him, and sadly, Lloyd-Jones cut off his friendship with Jim. More recently, Jim also led a group of Evangelical leaders to meet with Roman Catholic bishops regarding what they shared in common of Biblical faith.

We are here today to join the heavenly chorus, "Well done, good and faithful servant, enter thou into the joy of thy Lord!"
---
This tribute was originally given on July 23, 2020 at St. John's Vancouver for J. I. Packer's memorial service.