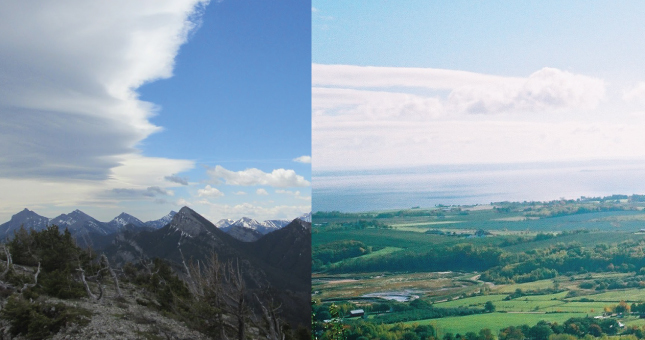 April 24, 2017 / Issue Volume 29, Number 1, Winter 2017 / Leading Ideas
Landscape and Community
Maxine Hancock is Professor Emerita of Interdisciplinary Studies and Spiritual Theology, Regent College. The author of many books and articles, she now lives in Nova Scotia, with her husband, Cam. You can visit her at her website: www.maxinehancock.ca
Maxine Hancock recounts the difficult yet rich transition to a new home in the Annapolis Valley of Nova Scotia
Nine years after moving to our retirement acreage in Nova Scotia, we still catch our breath every morning at the beauty of the Annapolis Valley spread out below the high escarpment on which we live. Crops and vineyards, in many shades of green, alternate with patches of rosy-red soil or dark, dense woodlots of mixed hardwood and conifers. Light changes and charges the rich colours: in the tender morning light, long shadows extend the dark woodlots across the fields; in the bright hard-edged realism of mid-day, the farms with their white houses and gleaming metal barns are a busy world, miniaturized by distance. By early evening, the light softens to a wash of lavender-gold that touches the west side of trees and gradually dims the valley.
We moved here in order to be alongside one of our children whose career as a pediatric cardiac surgeon had taken her and her family to the east coast, far removed from extended family. For us, it was also a great adventure, opening up a whole new landscape. My husband, Cam, watched and learned and talked about local farming and business activity, largely through acute observation and asking questions of our neighbours; I read history, geology, and east coast regional literature, gulping it down, trying to understand this near-island geography and my place within it.
Landscape matters greatly to me: always has, always will. My pulse still quickens when, on return to the Canadian prairies, we drive west toward the Rockies. The colour of the sky, the direction of the wind, the sweep of a foreground of prairie yielding to the roll of green-blue foothills edged by the blue-purple march of the white-capped mountains: this is, for me, the "world as it should be," for this is the landscape that shaped my earliest memories, the world in which I learned of God's steadfast love through the love of my parents for the Lord, for each other, for their children.
Then there is the curve in Highway 16, east of Edmonton where the flatlands and acidic soils give way to the pleasant roll of parkland, a gentle curve of hill and valley created by the advance and retreat of glaciers, deposits of gravel left by moraines alternating with rich deposits of dark loam. Where the underlay is glacial till, this is grazeland, and herds of black and red cattle browse. Where the soil is rich and brown, this is sweeping farmland, every field won from covering bush at the turn of the twentieth century by the homesteading pioneers, including Cam's grandparents, quarter section by quarter section, root by root and rock by rock. This is the country where we farmed for thirty years, where the wellness of the land meant our own thriving; where we groaned in earth's travail, suffered when it suffered, and rejoiced in its plenitude. Here we learned to understand more fully the biblical images of God as gardener, as farmer, and as Sovereign ruler of nature—as we learned in awe and gratitude and direct dependency upon him.
After the farming years, there came a decade in Vancouver, British Columbia, where I taught Interdisciplinary Studies and Spiritual Theology at Regent College: lovely, lush, rain-blessed Vancouver. How could one not love such a city? Cam used to walk down the city streets with the rain coursing down his shoulders, simply reveling in its abundance. With all of its richness of people and ideas and art and books, Regent was equally a place of intellectual stimulus and refreshment for me. In Vancouver we experienced the extravagant generosity of God in an urban landscape lavish in floral and architectural beauty, and celebrated that goodness together with a community overflowing in creativity and intellectual activity.
While at Regent, I had time to ponder more carefully the meaning of "place" and "placedness" and "landscape" with students who, as I had, had laid aside previous lives and other landscapes to be in Vancouver for a while. As "displaced persons," we explored together the literature of "spiritual geography" in a seminar titled Soulscape and Landscape, reading and discussing works which probe the intricate and intimate connection between landscape and our understanding of God's very being through the writings of such people as Belden C. Lane, Kathleen Norris, Annie Dillard, and others. Students from Trinidad and Texas, from Ireland and Scotland, from Australia and South Africa, considered how the landscapes of "home" and "away" shape our understanding of God and give us the structures through which we read and appropriate scripture. We learned from the authors we studied as well as from each other, becoming ever more attentive to place, to geography, to the actual stuff—stones and buildings, waterways and trees—of the landscape around us.
But much as I had long thought about the meaning of "place," it was our move to Nova Scotia that took me into a still deeper understanding, realized in a personally focused way that place is more, much more, than landscape. Here was beauty to match the dearest dream, a whole landscape drenched with biblical imagery and the memory of a great spiritual awakening that swept this province in the nineteenth century. There were towns called "Canaan" and "Paradise"; the agricultural college is located in "Bible Hill," and our home is on "Gospel Woods Road." Aesthetically satisfying as this new landscape is, to us as newcomers it was also very alien. Even the rocks, rolled up in deep benches at the nearby coves and bays, were strange in structure and texture. This close to sea level, the air was heavy and often very humid; I could feel the frequent barometric pressure changes as a change in mood and "head space." On top of the strangeness, I was, for the first time in my life, lonely. In all other contexts of my life, I had experienced "community" as intrinsic to landscape, a part of the givenness of it all. But in this move, I came to reflect much more carefully on the community aspect of landscape; to realize in a new way that, however rich a landscape is, it has real meaning only as it is refracted through relationships, its meaning filtered through community.
Our mountain is most often bright and sunny, but one November, a few years after we had moved, fog rolled and settled down around us for most of a week. The fog acted as a blotter, blanking out the lovely landscape below, sucking up even the shortening light of early winter days. Suddenly, one afternoon, I was overwhelmed up with grief and loss. My desolation of spirit was profound. I felt stripped of identity, friendships, and community. I felt how far away I was from all my friends and most of my family. I was finding, as I had been warned before coming, that there would be no easy welcome here on this coast where people lived in intense familial and social networks intact from their childhoods. I felt how few I knew; how few knew me—or even showed any desire to know me. And I wept from the core of my spirit. Finally, still weeping, I lit a candle to place in the window, then found my grandmother's little purse hymnal and looked up John Henry Newman's great hymn, reading it as prayer, "Lead kindly light in the encircling gloom / The night is dark and I am far from home."
"Dear Lord," I whispered (or more properly, whimpered,) "wherever I have lived before there have been companions for my journey. So I believe that if you have brought me here, you have appointed some companions for me, and you have appointed me to be a companion to some. Please now reveal these people to me—give me eyes to recognize them and to welcome them when they come into my life."
And then, quite wonderfully, companions for the journey came into my life, one by one, each a special gift received gratefully from the Great Giver of "every good and perfect gift," together forming a community of which I am a part. The landscape is lovelier far now that I can name people who live along the roads we drive, and know a little of their stories; lovelier far now because now, when under the silver moonlight that floods into our mountain home, I sit, awake at night to gaze at the pewter gleam of the Minas Basin and then scan the constellations of lights that mark the little towns and acreages and farms along the roads, I can name before the Lord friends and neighbours, pastors and congregations, as far as I can see.
Landscape without deep relationships may be fine for a tourist. But, as I have learned, it will not do for a pilgrim. For now, at least, I am a "settled pilgrim." This beautiful place and space—both landscape and community—has truly become home.