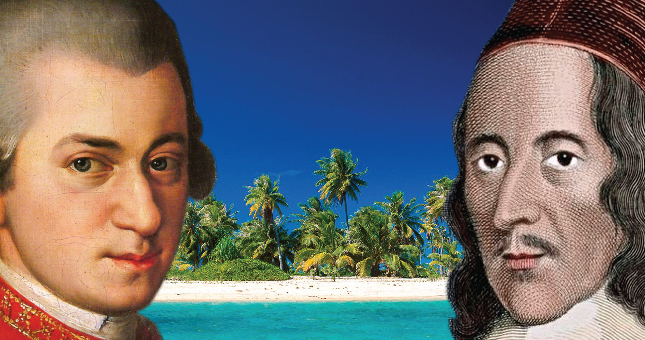 September 30, 2015 / Issue Volume 27, Number 2, Fall 2015 / Jeff's Journal
A Few of My Favourite Things
We live in a culture that expects us to be eager and constant consumers of new and improved products. Unless you are living off the grid, it's impossible not to be bombarded with increasingly individualized and targeted advertising. The torrent of images and slogans is designed to generate dissatisfaction with whatever we have, and to instill an insatiable hunger for what's new, what's better, or what's the latest thing on the market. Active resistance to this mindset and the soul-deadening snares of consumerist culture is surely the path of Christian wisdom.
And yet, we are embodied, physical creatures made by a Creator God for life in this world. Christianity sometimes has been called the most materialistic of all religions. Why? Simply because our faith teaches us that the world made and sustained by God is good, and God gives us all things richly to enjoy. Denial of the basic goodness of the material world and human body is a persistent heresy. Every culture and its "stuff" (foods, styles of dress, forms of artwork, and so on) reflect the diversity of God's creative goodness.
I am sure that each of us has a few favourite things. Even those with few material possessions have some that are special, items that we'd take with us to a desert island. I've always enjoyed the long-playing BBC radio program "Desert Island Discs." The show's format is simple. The host asks a guest what they would take with them if they were a castaway on a desert island. In the end, the guest must decide on taking just one record, one book (other than Shakespeare or the Bible), and one "luxury" item.
One record: For me, it would be a choice between my favourite jazz or classical records. In the jazz category, I'd consider pianist Dave Brubeck's Greatest Hits album. In the classical realm, the very close runner-up would be Handel's Messiah. But the disc I'd take would be Mozart's Clarinet Concerto in A Major, K622. For a defense of Mozart in general, I defer to Karl Barth. He wrote a short book about Mozart, in which he claims: "It may be that when the angels go about their task praising God, they play only Bach. I am sure, however, that when they are together en famille they play Mozart." I am a former clarinetist, and when I retired, I was working on playing that piece in recital. Its sublime delicacy and sheer beauty are a wonder, time after time. It doesn't get old.
One book: One book? Really? That's so hard. A very serious candidate would have to be a really excellent cookbook, assuming that there is a supply of food on the desert island (not just coconuts and salt water). My new favourite is The Cook's Illustrated Cookbook. Beyond recipes and pictures, this splendid volume has interesting narratives about cooking methods and ingredients. It captures the art and science of cooking like nothing else I've seen. However, ongoing food for the mind and heart should be taken more seriously. For enduring value, the book I would actually take is The Complete English Poems of the great 17th century Anglican George Herbert. He is my favourite poet, someone whose profound theological vision is given powerful yet simple expression in a remarkable body of spiritually edifying poetry.
One "luxury" item: I really love my food processor, but since I assume electricity is not necessarily available, and since I may have only coconuts to eat, I'll leave it home. I'd give serious consideration to taking a pillow. I think it would be easier to get along without a bed if there was a firm pillow with me. I am pretty particular about pillows. In the end, I'd have to take a lifetime supply of lined paper and non-scratchy pens. With the Bible, Shakespeare, and Herbert near to hand, and with Mozart's inspiration, maybe I could get some writing done. Strangely enough, my desert island scenario sounds a lot like a theologian's plans for his next sabbatical!
Try your own version of the show at home with your friends or family. What would you take? What are your favourite things?