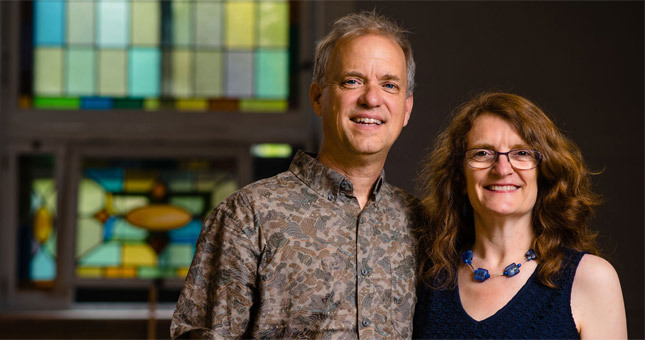 April 20, 2021 / Issue Volume 33, Number 1, Spring 2021 / Field Notes
Photo by InterVarsity Canada
Complicated Comfort
In the year since a worldwide pandemic was declared, grief has arrived like an uninvited guest and taken up residence in our homes, social circles, workplaces, and churches. Grief is most acute for those whose loved ones have died, yet grief accompanies most every loss—and this year so much has been lost. Like the knitting yarn many of us have picked up in a year of new and revisited hobbies, grief is a thread that connects all the losses of our lifetimes. Grief over a fresh loss tugs at older griefs until the sense of unravelling may become overwhelming. No two griefs are the same, just as no two people grieve and experience grief in the same way, but grief is universal. Everyone grieves.
Because of grief's current prevalence in our communities, this is a critical time to consider how we might walk with those who mourn. As people of God, let's come alongside grieving friends as companions and witnesses of loss. Deep grief testifies to great love. Our faith teaches us that when all else is lost, love remains. Let us testify to love.
I share my experience in hope of offering insight and courage to those who would accompany friends in grief.
I am twice bereaved. My father was killed by a drunk driver when I was twelve; my husband of thirty years died of cancer in April 2020. The first loss drew me close to God and deepened my faith; this recent loss has left me feeling socially distant from God and unsettled. Grief is universal, but its impact is variable and unpredictable. Even if we aren't ourselves grieving, most of us have friends who are. Nothing you read here, or elsewhere, will definitively describe your friend's particular experience of grief, but there are ways you can support your friend well, even in a pandemic.
First, your job is not to fix the unfixable, to shift, or even to distract your friend. She knows you cannot restore what is lost or heal her wounds; any attempt to remove or neatly package grief may threaten rather than relieve your friend. Personally, when all seems lost, I want to hold tight the one thing solidly in my grasp: my sorrow.
Acknowledgment is the starting point. "I can't imagine how you feel" have been the most comforting words spoken to me in the wake of Steve's death. It's not strictly true; anyone can imagine anything. But these words acknowledge the uniqueness and aloneness of my daily experience. "I can't imagine how you feel"—rather than the dreadful "How are you?"—is a statement that invites response without insisting, and it implies any response is acceptable.
Acknowledgment requires you to show up, but before you do, ask yourself what you are bringing along. If you bring your own grief-provoked needs, figure out a different way to meet them before joining me in my grief. For example, if you need to know I'm okay in order to reassure yourself that Christian faith renders death less devastating to survivors, read a book or listen to a sermon but don't give the book or sermon to me. If you need to be comforted because my loss is also your loss, first find someone whose loss is less acute, then come be that person for me.
I fear I may scare you off, when in fact I need my friends to accompany me. So here is my simplest advice: show up and shut up. If that is a little shocking, consider it a litmus test. In order to accompany your friend, you may need to tolerate raw grief, to remain open and gracious. And if that is very difficult, you probably aren't ready to be truly present to your friend. That's okay. Send flowers, food, chocolate, or a novel. Do errands or chores. By recognizing your own limits rather than imposing those limits on her, you serve your friend. When possible, courageously join your friend in grief. Listen to the rawest thoughts and feelings she chooses to share. Receive them as gifts even if they are flung at you in rage-fueled bursts. By allowing this expression you offer a gift in return.
Show up in practical and creative ways. Do you know your friend's love language?
Acts of service speak care to me. When friends raked my leaves, I felt loved.
Physical touch is not my love language. When people say, "I wish I could give you a hug," I feel spared by the pandemic. But others ache for a firm touch. Book therapeutic massages.
Words. Write or say what you love and remember about the person who died or about your friend who remains. Bereaved people long to hear their loved one's name spoken. Because we can't have traditional memorial services or gatherings, bereaved people are starving for stories. Talking about the dead person won't make your friend sad or remind her of her sadness. She already is sad. And she hasn't forgotten. Trust me; you don't have the power to make her sadder. You do have the power to help her remember the one she loves, the one she is terrified she will forget.
Time. Friends have walked countless kilometres with me over the past months.
Gifts. Steve was a great gift-giver. I miss being on the receiving end of his particular thoughtfulness. So thoughtful gifts have been restorative to me. I love my new ceramic mug: sipping tea from it reminds me of people who care for me.
In some ways, I will always be alone in grief, but I am grateful for friends who do what they can to ensure I will not be lonely. You can't solve, fix, or heal me, but you can keep me company, and for that I will be grateful. That great day when all tears will be wiped away seems impossibly distant today. Until then, let's hold one another close.