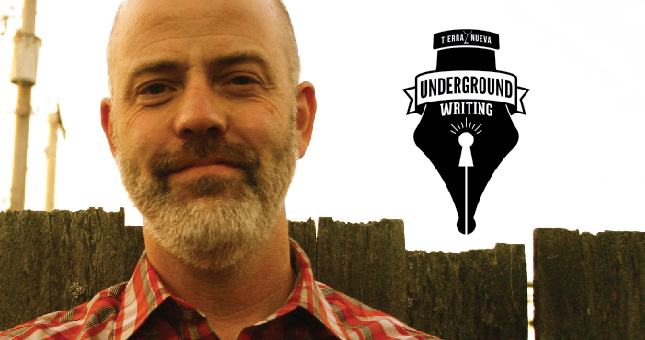 February 29, 2016 / Issue Volume 28, Number 1, Winter 2016 / Arts & Theology
Writing in the Margins
Charlene Kwiatkowski is a writer and editor living in Vancouver. She loves walking the city, taking photos, and blogging about what she sees and reads at textingthecity.wordpress.com
A Conversation with Matt Malyon
Matt Malyon's staff farewell party from Regent College has always stuck with me. He had been part of the Admissions team for over ten years and was much loved for his gentle and hardworking character (not to mention dry wit). He left in 2014 to accept a position with Tierra Nueva, an ecumenical Christian ministry in Burlington, Washington that works with people on the margins. While everyone was going to miss him greatly, colleague after colleague acknowledged that the role he was moving into was a great fit with his pastoral and poetic heart.
Fast-forward a year later and the joy is evident on his face as I talk with my former colleague over Skype. Last July, he launched Underground Writing, an affiliate program of Tierra Nueva. Underground Writing is a literature-based creative writing program that serves three populations: incarcerated youth at the Skagit County Juvenile Detention, adults recovering from addiction in the Skagit Valley Recovery Community, and Migrant Youth Leaders in two after-school clubs at LaVenture and Mount Baker Middle Schools. The program facilitates encounters with literature spanning the whole tradition—from ancient texts to those written in their workshop sessions. Matt says, "We believe that attentive reading leads to attentive writing, which has the power to assist in the resurrection of communities, the imagination, and individual lives."
He says the words like he's speaking from experience. As we chat further, he shares that he's struggled with depression on and off, which isn't hard to imagine when he talks about searching for his vocation for two decades and taking a series of wrong turns. When his father died in 2000, he wrote a short story collection never meant for anyone to see, but as a way to deal with the grief. His mom just passed away last month and he feels that writing is going to be an important part of that healing process as well. "I've experienced the restorative, energizing, and imaginative nature of writing," Matt says. "And it's kept me sane," he adds with a laugh.
He's excited for his students to experience the same effects of the written word. "Writing has helped me deal with the suffering and pain that is present in the world and which—in one way or another—touches all of us. I may not have the background of some of these youth in terms of their legal issues, but they're in a small room feeling trapped and depressed, wondering if the future is going to turn out okay, and I can identify with that. I've been in those places in a different way."
I ask him if mental health issues are common in the populations he works with. He nods and describes a conversation he had in juvenile detention in his other role there as chaplain. "The other week I was talking to the kids about fear. Their biggest fears are 1) Am I going to get out? 2) When am I going to get out? and 3) Will I be able to not slip back into what I've been doing wrong? The fears they sit with just lend themselves to depression." Matt notes that depression is very common in the incarcerated and addiction recovery communities. He also sees people dealing with chronic anger and a range of personality disorders.
"So how does creative writing possibly help people work through mental health issues?" Matt scratches his beard as he reflects on my question. "I think there's power in writing your thoughts down," he says after a pause. "The other three teachers and I often hear comments like, 'I didn't even know I was thinking that until I wrote it down.' But the students are only writing it down because they're at this workshop."
Underground Writing has four teachers who each write in different genres: A.N. Muia (fiction), Chris Hoke (non-fiction), Jennifer Hendrix (drama), and Matt Malyon himself (poetry). They pair up and lead 60- to 75-minute workshops at each of the three sites, either weekly or biweekly. The workshops open with a "Brain Spill," where the students and teachers write for five minutes on whatever thoughts come into their minds. The core of each session is a reading and discussion of a featured piece of literature, bookended by two writing prompts. The classes end with a "Brain Fill," where the teachers ask two things: 1) What did you learn or enjoy today through the act of writing? and 2) Name something you want to read or write in the next week. "We want the students to make the connection that discoveries about themselves are happening because they're writing, so they can then use writing as a tool for expression but also for health." Matt relays an anecdote about a young man in juvenile detention who, after finishing a writing prompt, said, "I didn't even know I could express my feelings before—I just thought it was something my girlfriend could do."
The goal of Underground Writing, however, is not writing as therapy. As Matt explains, "some programs aim at healing and that's what they get. But if you aim at literature and writing, then you get everything else in between. Reading and writing are naturally healing, and that's what's so exciting about it. We see the therapy aspect as a by-product of a good literary encounter."
I ask Matt for some examples of texts that have resonated with students. He lists the works of Native American writer Sherman Alexie, as well as Hispanic poet Jimmy Santiago Baca, who began composing poetry when he was incarcerated. "The students are always interested in that connection," Matt says. He adds with a grin, "Surprisingly, and much to my pleasure, they really liked Dante's Inferno. When you describe how the narrator is lost in the woods, fearful as he looks back and looks forward on his life, boom! The kids are right there with you. They get it. If you can make those connections to their lives, you can talk to them about almost anything."
I wonder if the students are willing to share their work aloud and he says the addiction recovery community is the most open. "They've hit bottom so hard and are on the way back up that they're among the most honest people you'll ever meet. They figure they've got nothing to lose and they're not going to put up all these fronts because that's how they got in trouble in the first place."
Another thing Matt and his colleagues try and get the students to do is imagine a better future. "What happens for a lot of these folks is that they lose the ability to imagine something better because, in their minds, they keep failing and can't escape the web of destructive influences. They don't have good examples in their lives." The responses he'll sometimes get to this exercise are along the lines of, "I'll have a big house and a red Ferrari," but it's the imaginative practice he hopes they'll take away with them. In one session, they talked about heroes and mentors and the students had to name someone who influenced them for the better. The next exercise was to write about what it's going to take to be someone whom others might call a hero. "I don't think they ever consider that that sort of thing could actually happen to them."
Matt's comment reminded me of his own story—wondering if teaching, chaplaincy, and creative writing would ever align for him. It was during his first year as a student at Regent College back in 2003 that he had the epiphany to use writing for something beyond himself—something tied to social justice. It sat there for years, during which time he went on to complete an MFA at UBC, until the doors swung wide open to start this kind of program at Tierra Nueva, which was already working in jails and juvenile detention. Not only is Matt's work something he feels a deep peace about, but it also connects to his parents in a really strong way: his father was a hospital chaplain and his mother was an English teacher. What does Matt love best about his role? "Taking creative writing outside the academy to places where it might not be found, and working with people who might never show up in a classroom." And now he hears frequent comments from students who say, "I've never really liked reading before, but now I'm into it" or "I can't believe I'm here doing this."
The future vision for Underground Writing is to expand to three more sites, including Skagit County Jail and two state prisons (one men's, one women's). But Matt wants to grow it slowly so that it's sustainable for the long term and can become a resource for other people wanting to start this type of program in their communities. Other projects on the horizon include a book of student writings from the migrant youth site and an anthology from all three sites. Matt encourages anyone looking to get involved to visit www.undergroundwriting.org and contact him via email about volunteer opportunities. Regent students taking the Vocation of the Artist class can do their practicum with Underground Writing.
After our conversation, I can't help but feel excited about what my former colleague is up to—sharing his passion for the transforming power of words that can help bring individuals up from the underground of addiction and incarceration, even if it starts with the simple desire to get out of one's cell for an hour.
Matt Malyon is currently a jail and juvenile detention chaplain with Tierra Nueva in Burlington, WA. He holds an MFA in Creative Writing from the University of British Columbia, and an MA in Theology & the Arts from Regent College. His poetry has been published or is forthcoming in various journals—including the University of Iowa's 100 Words, Filid, CRUX, Measure, and Mysterion—and received a Pushcart Prize nomination in 2014. In addition to serving as a Mentor in the PEN Prison Writing Program, Matt recently founded and directs Underground Writing, a literature-based creative writing program serving at-risk, incarcerated, and recovery communities in northern Washington.