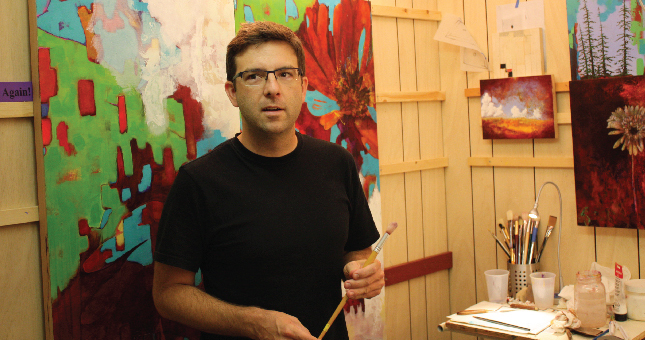 September 30, 2015 / Issue Volume 27, Number 2, Fall 2015 / Arts & Theology
Ken McAllister
The Whole Enchilada: An Interview with Adam Back
Charlene Kwiatkowski is a writer and editor living in Vancouver. She loves walking the city, taking photos, and blogging about what she sees and reads at textingthecity.wordpress.com
Adam Back's recent solo exhibition at the Lookout Gallery, entitled The Whole Enchilada, featured mixed media paintings and collages that incorporate everyday objects, including old books, sheet music, and trash found in the street. Charlene Kwiatkowski sat down and chatted with Adam about enchiladas, ordinary things, flowers, and the art of slowing down.
What's the significance of The Whole Enchilada? It seems a bit of an odd name for an art exhibit.
It is a bit of an odd name, and that's pretty intentional. It's a phrase I grew up hearing a lot in Texas. "Give me the whole enchilada" means you want it all—you want as much stuff crammed into that tortilla as possible. My show is also the culmination of my time at Regent College, where I am doing a dual concentration in Biblical Studies and Christianity & the Arts, which includes an Integrative Project in the Arts & Theology (IPIAT). For my IPIAT, I have to write a theological reflection on art alongside a series of paintings I'm making. So calling the show and presentation "the whole enchilada" is my tongue-in-cheek way of summarizing everything that's gone on for me at Regent in the last five years.
Why is it important that theology and art integrate?
There's a really long philosophical tradition as to why those things have been separated. Historically, in the West, a human being has been understood simply as a thinking thing—a receptacle for information. Scripturally, that's not true. There's that great quote by Saint Irenaeus that says, "the glory of God is a human being fully alive." What does it look like to be fully alive? That means our emotions, our physicality, and yes, our intellect, but I don't think that means our intellect at the expense of loving to play Frisbee in the park with your girlfriend, or cooking enchiladas, or making a painting.
Tell me more about how your faith informs your practice as an artist.
A big part of why I'm making art is because of my experience at Regent College. Regent has helped me see and understand where I fit into the story of what God is doing in the world. I am challenged to ask, "What does a human life look like lived in the world before a God who's creative, who spoke in parables, who came to us as the Word made flesh?" The story we get in the Bible is of a good God making a good universe—a good creation. Within that universe, he places his images to steward and care for creation. We've done some really dark and evil things with that, but we've also done some really great things. I think God likes to be surprised in the sense of, "what are my images going to come up with?"
So when it comes to my own personal studio practices, this scriptural story opens up all kinds of possibilities because the stuff I make with is stuff that's already been made. Most of my work is in mixed media/collage. For example, I'll take trash found in the streets, old books, record albums, matchboxes, sheet music, and then I glue it all down, paint over top of it, scrape it all off, and glue it all back down again and draw on top of it.
Sounds like an arduous process!
It is, but I love it—I love the material stuff. I think we often get this idea that God doesn't care about the physical world or our bodies, which plays out in this escapism that is so much a part of Western culture. Christianity feeds off that, and I think it's a dangerous symbiosis. Look at Rembrandt's work or the Sistine Chapel or Japanese watercolours—there are so many beautiful things people make. It seems strange that God could call the world he made very good in Genesis 1 and then destroy it. But if the story in Scripture is that he's redeeming the world and I'm a part of this story, then that starts playing into my art through how I handle the materials.
How does that scriptural story come across not just in how you paint, but what you paint?
Well, if this is a story about the whole world, then I think ordinary things matter.
So you paint ordinary things?
Yes and no. At least in Western culture, we tend to go from excitement to excitement. I like exciting stuff, but I also like shucking peas or going for walks—the small, ordinary things of life that seemingly don't matter. One of the paintings in the show is a stack of books. A lot of the other ones are of flowers. But these "ordinary," small things that are easy to miss are important things too. Our culture is so fast-paced that we often can't slow down to look at things and see things well. What I really love about making art is that I get to do it in the first place, and that my artistic practices in the studio force me to slow down and pay attention to what I'm doing. I know when I start rushing and not applying paint well that I'm going to foul everything up and have to start over. If I'm just trying to rush through and crank something out, then I have to ask the question, "do I really love this?" That question has been important to me because I want to love the things I make and share that with others.
So when people look at your work, what do you want them to pay attention to or take away from it?
I throw all this stuff out there about form and attention to detail, but the irony is that it can come back to bite me if I've sloughed off. But it's also a check and accountability for the level that I want to work at. Hopefully, when people look at my work, they see that care and attention to detail. The little collage surprises I put in my paintings—like matchbooks or traces of text—what does that communicate? With our iPads, phones, and ear buds, we're always connected. We can't slow down and pay attention to one thing, and I think good art slows people down. I want to inspire people to have at least one thing that they take time out for in their own lives.
Looking at your website, I notice there are a lot of images with flowers. Is there a particular reason you're drawn to flowers—pardon the pun?
I'm sure there are lots of reasons. I'm always astounded with Vancouver in the spring when the tulips and peonies begin to bloom. People cultivate their gardens really well, and you have these firecrackers of colour all over the city. As I'm walking to the bus stop in the morning, I'll miss the bus because I'm stopping to look at somebody's flowers in their front yard, and I think, "how boring life would be without flowers!" And by extension, " how boring life would be without colour!" Just think of all the various hues and tints of colours in just one petal of a rose. So yeah, I stop and smell the roses. At the same time, flowers are fragile things and only here for a while before they're gone. There's this ephemeral quality to their beauty, just as there is to life.
So you're essentially capturing something that's impossible to capture.
Exactly. There's a beautiful tension between the material and the content.
This is a condensed and edited version of an interview originally published on Charlene Kwiatkowski's blog Texting the City.