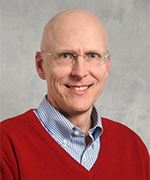 William Satterwhite
('87)
Bill Satterwhite, JD, MD, is one of the physician co-founders of the Sneez app—the first crowd-sourced sickness app for parents of school-aged children. He grew up in North Carolina and married his Davidson College sweetheart, Katie Dagenhart (DPCS 1987). In the middle of law school, Bill and Katie headed west and north to attend Regent College for the school year 1986–87. They still tell their friends, "It was the best year of our lives," and "We are continuing to dream of returning to Regent again!"
After finishing UNC Law School, Bill began practicing healthcare law in Charlotte, NC. Five years later, he and Katie moved to Winston-Salem, NC where Bill entered medical school at Wake Forest University at age 31 years with three children! Currently he is the Chief Wellness Officer at Wake Forest Baptist Health.
---
In 2012, I was seeing sick child after sick child after sick child in my pediatric clinic. I remember thinking to myself, "It would be so helpful to me as a clinician if I knew what illnesses were going around, and not just going around generally, but what was going around in this child's school." I also knew that many parents often called our office when their child awoke with a fever and sore throat, for example, to ask if strep was going around. "Surely in this day and age there is an app out there for parents and schools to share this information," I thought. I looked, and there wasn't!

So another doctor and I formed a company, found a developer, investors, and business partners and launched the app in our hometown of Winston-Salem, NC, USA, in the fall of 2016. The app caught on quickly locally and was even downloaded by many parents nationally following some national news coverage. And so, Sneez was born!
The app was launched in the fall of 2016. It is free, available for Apple and Android phones, and works for any school, daycare or extra-curricular activity with an address that can be searched for in Google. Parents simply download the app, create an account, enter their children and their children's schools and extracurricular activities, then record symptoms and illnesses from dropdown lists when their child is sick. An anonymous alert is then sent to other parents with the app in the child's school or extracurricular. Aggregated data is displayed for users both by school and by grade, as well as on an Outbreaks map. Reporting dashboards exist for school administrators.
One of the ways in which my year at Regent College and my subsequent growth in Christ have influenced me is that I have a great desire for people to experience God's goodness. Part of that goodness includes the avoidance of illnesses which, in a microscopic way, are a manifestation of the fall. From my perspective, Sneez has huge potential to do good in the world by bringing individuals, and ultimately their communities, into a higher state of overall wellness and well-being.
Sneez—in "medical speak"—is actually a form of "citizen surveillance" regarding the outbreak of illnesses. Most illness reporting systems rely on experts—doctors, labs, hospitals, and health departments—to gather official data, analyze it, and then report it. This data is accurate but it is delayed and always underestimates the actual number of cases of an illness. Sneez, by contrast, is real-time and captures a much wider swath of the populace. Because of these distinctions and because so many people worldwide have smartphones, I truly believe Sneez can make a difference in the health of our communities, not only in the United States and Canada, but also worldwide. It is not hard for me to imagine the World Health Organization using the app to help WHO detect outbreaks earlier based on self-reports through the app, leading WHO to divert its resources to those "hot spots."