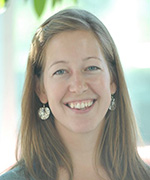 Dena Nicolai
(MATS '17)
Dena is studying at Regent and serving as a Chaplain and Refugee Support Mobilizer with First Vancouver Christian Reformed Church. That role includes establishing and serving in a multi-faith chaplaincy accessed by Government Assisted Refugees. Dena is currently completing her last thesis requirements for her MA in Theological Studies, with a concentration in Church History.
The Church and the Refugee Crisis: Finding Our Way Home Together

This November marks one year since the Canadian government announced its plan to resettle 25,000 Syrian refugees by the end of 2015. Since that date, the government has followed through on its promise (albeit with a few revisions to the timeline) and 40,081 Syrians have arrived in Canada, through a combination of government support and Canada's unique model of Private Sponsorship.
Of that number, approximately 3,300 have settled in British Columbia, well over half arriving in Vancouver before moving into outlying areas. Several hundred more Syrians will arrive in the province by the end of 2017, along with refugees from other nations across the world.[1]
In my new role as Chaplain and Refugee Support Mobilizer with the Christian Reformed Churches of Vancouver and the Fraser Valley, I have had opportunity to meet some of these newcomers in the first months of building their new lives in Canada. And while larger global issues of displacement and dislocation evoke Scriptural images of exile and wandering, the relationships I have begun to form here in BC have pushed me beyond images of wandering into further consideration of the meaning of "home."
Research and evaluation of what constitutes long-term, healthy settlement of newcomers to Canada—especially those who come as refugees—often focuses on determinants that can be quantified: income, housing, employment, access to education and healthcare, and so on. Yet none of these factors fully address the question of whether those newcomers feel that they belong in the new place in which they are settling—i.e., of whether they feel at home.
"No one leaves home unless / home is the mouth of a shark," writes Somali-British poet Warsan Shire. Even so, many of the displaced people who have made their way to Canada arrived here holding onto hope that the shark would quickly flee. At an Easter meal we hosted and shared last spring with almost 90 Syrian newcomers, one of the women with whom I was sitting reciprocated the dinner invitation: "You must come to our home in Syria," she said, "when things are better and we return." This was something I would hear echoed by others, though ever fainter, in the months to come. Today, however, the possibility of this invitation seems more distant than ever. "Even Peace May Not Save Syria," was the stark headline of a recent New Yorker article, and while some might rightly distrust a western publication on this front, the reality is that Syria, like many of the nations from which refugees flee, is now a place of deep and violent rifts that will take generations to repair.
But the Syrians I've met have fled a land with deep roots. Damascus and Aleppo are two of the oldest continuously-inhabited cities in the world. Daraa province, the southern area of Syria along the Jordanian border which saw some of the initial anti-government protests—and was subsequently the place from which many of the first refugees fled—had an estimated 6.5 million olive trees before the war, some of these several hundred years old. The olive groves have been farmed by the people of that region for at least that long. Those who come from Daraa, and indeed from most parts of Syria, speak of always having been there, and of belonging to the land in a way in which comparatively rootless westerners can barely comprehend. The Arabic words they use to describe "home," though without exact English equivalents, evoke a strong sense of identity. When they talk of their homeland, there is the clear sense that "home" is how you know who you are.
Yet they've fled—Muslim, Christian, Yazidi, Druze, and more—from this home to a city, Vancouver, in which two out of every three residents is not from here:[2] a city recently deemed one of the loneliest in the country, in which rates of transience and incomprehensible housing prices mean that people are constantly coming and going.[3] While most newly-arrived refugees end up in more permanent housing outside of Vancouver—Surrey, Coquitlam, Langley, and beyond—much of the displacement that plagues Vancouver follows them, even if in less distinct ways.
To these Syrians, rooted as they were, Vancouver and its inhabitants are bewildering. I, for example, voluntarily left my home at 18 to move to another country for college. From there, I spent several years in the Middle East (including a number of trips to Syria). Although I did eventually return to my homeland (Canada), I moved to a city far from my family. I am not married, and I do not live near my parents, let alone with them. When the inevitable train of questions from Syrians draws my life map, the looks I get are puzzled—sometimes almost amused. However, those looks quickly turn to empathy: though many of them feel displaced, uprooted, and homeless here, they realize that though they are newcomers and I am Canadian-born, perhaps we are not so different after all.
In Beyond Homelessness: Christian Faith in a Culture of Displacement, Brian Walsh and Steven Bouma-Prediger address our current North American culture of dislocation, arguing that "ours is an age of displacement. And the realities of socioeconomic, ecological, and cultural homelessness seem only [set to intensify]…Homelessness seems to be an intractable problem, and once we begin to glimpse the scope, complexity, and interrelatedness of the crises of homelessness in all its forms, it is difficult to live in hope."[4]
Yet Walsh and Bouma-Prediger know, as do we, that Christians are called to hope. As they remind us, our "deeply biblical worldview [has] the resources to respond to this crisis [of displacement] with a vision of redemptive homecoming."[5] They set out nine characteristics of home, describing it as "a place of stability and familiarity, a site of dwelling, a storied place of memory-shaped meaning, a berth of rest and security, a locus of welcome, an abode of embodied inhabitation, a point of orientation, [and] a web of affiliation and belonging."[6]
This vision should be familiar to us: in many ways, it describes the Church. It is for exactly this reason that churches have always played a pivotal role in Canada's welcome of refugees. Typically, two-thirds of refugees who arrive in Canada each year are supported by private sponsors, a large number of whom are church groups. The Syrian crisis has altered the numbers slightly, drawing more attention to the needs of refugees in the Canadian public at large. With the latest arrivals of Government-Assisted Refugees, though, churches are again stepping in to fill the gaps that government cannot fill, meeting not only physical but also social, emotional, and relational needs. At their best, these churches offer a vision of a place where all are at home, where all can journey together.
As Christians, followers of a "placed" Christ who "became flesh and made his dwelling among us" (John 1:14), we are both pilgrims and at home, able to share with newcomers both a sense of exile and a desire to love the places where we find ourselves. Our rhythms of prayer and worship root us in something much bigger than our current culture of dislocation. As members of what Robert Webber calls an "ancient future faith," we are "placed" by the story of Scripture and the memories of those who came before us, and by the vision of our ultimate home.
The practices that bind us together have always included the Scriptural call to welcome the stranger; to build houses, settle down, and seek the peace and prosperity of the city (in the words of the Prophet Jeremiah); and to do so together. Even in the midst of bewildering displacement, we are settled in our communal celebration "of [an ultimate] homecoming resurrection," made possible "only because of the sacrifice of Jesus."[7]
However, "home" is not easily forged. The process of welcoming newcomers into a new home is filled with difficulty, sacrifice, and failure. There are complications of language, poverty and trauma, and the paternalistic "othering" with which we sometimes approach refugees. It raises challenging questions: for instance, what does integration into a pluralist society look like for newcomers arriving from more homogenous cultures with beliefs and value systems that appear to conflict with ours? The effects of all of this disorientation should not be underestimated. As one member of a church refugee sponsorship group wrote to me, "There are days where we despair and wonder what in the world we're doing and why we are putting effort into this and did we do the right thing?! It's a big job. God never did tell us that Kingdom work would be easy."
Yet even amidst the difficulties, there are glimpses of home-making: children who, in the absence of pomegranates, discover the sweetness of mid-summer BC blackberries. Small cups of strong, hot Arabic coffee consumed over shared stories of immigration from different continents. The mutual transformations of people journeying together. "Sponsoring this refugee family has been a blessing to our lives in that we are experiencing the fullness of life," adds the same church sponsor: "Together our joys reach higher, our sorrows stretch wider, and our pain touches deeper. Our eyes are open wide as we live into the lives God has given us; as we live our part of God's bigger story."
When we are at home together, we are no longer "Canadians" and "refugees," but people journeying side by side, made in the image of a home-making God. Together we find our place here, even as we hope for the Kingdom come. Though we dwell in an ever-changing and transient city, like Abraham—himself displaced in the lands of the Middle East—we look ever "forward to the [eternal] city that has foundations, whose designer and builder is God." (Hebrews 11:10).
---