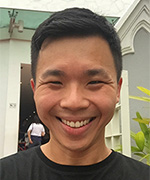 Lean Sing Ding
(MDiv '16)
Lean Sing is a recent Regent graduate and a currently Pastoral Team Member at Wesley Methodist Church in Singapore. He is Christ follower aiming to bring God's Shalom to whomever he meets and wherever He goes. He is also the proud supporter of the greatest football club in the world, Manchester United.
Can you tell us a bit about what the transition has been like from Singapore to Regent College and back again.
When I moved from Singapore to Regent College, I experienced three main forms of transition: cultural, vocational and academic.
Culturally, moving from a traditionally Asian Singaporean Society to a North American society necessitated that I adjust to different cultural norms—such as speaking out when I disagree rather than remaining silent. However, the transition was not as difficult as one would expect as I had spent some time in Australia for my bachelor's, and the fact that Singaporeans are raised on a steady diet of North American popular culture through television programs like Orange County, Friends and Seinfeld.
In addition, staying in an international household comprised of a an American Israeli, a Canadian, a South African, an Australian, and a Kansan—made the cultural transition interesting. While there were obvious challenges being in such an international community house I can say I am a more enriched individual through living and interacting with them.
Vocationally, prior to Regent, I had spent about 5-6 years working in the financial services sector, so transitioning from being a salaried individual who did not have to worry about finances to a student who had to manage a daily budget using excel took a while to get used to. There were also times of doubt and frustration when I questioned myself as to why I gave up a comfortable life to come to an extremely wet and cold place to study. However, I can testify that the quality of the education I received at Regent resulted in an intellectual and spiritual "awakening" of my Christian faith that soothed and assuaged those occasional moments of doubt.
Aside from cultural and vocational transition, I think what was most difficult for me was the academic transition. Having studied biomedical science and subsequently found work in the financial services industry meant that writing academic papers was foreign to me.
Thankfully, the Regent Writing Centre was not just a place to improve one's paper and writing but also a place of great encouragement. Hilary Guth, a shout out to her, who not only proof read my paper but also taught me how to structure my first few papers, was and is a tremendous blessing to me. Thanks Hilary!
Now, one year into transitioning back into Singapore, I think the challenges are interestingly and ironically quite similar: they are primarily cultural and vocational.
Culturally, I must confess that, in general, Canadian society at large is an extremely compassionate society. While I might disagree with many of the public policies, I am thankful that these policies almost always emerge from a posture of compassion. This is not to disparage Singapore nor Singaporeans, but I think, as a society, we can learn to be more generous and compassionate, not just as individuals but also as a society at large.
Vocationally, I have transitioned from full time student to church staff. Such a transition has been difficult as I have never been employed by a church. The duties and responsibilities of a staff member differ greatly from that of a volunteer. And having spent more than 7 years as a volunteer in the same church where I am working now, there are bound to be moments of internal and external conflict. So in some sense this has been, aside from the sense of dislocation, one of the greatest transitional challenges for me. And of course I miss studying!
What is it like working as a Pastoral Team Member in Singapore?
I began work as a Pastoral Team Member (PTM) in March of 2016, initially spending six months in the Pastoral Care Ministry and then subsequently, where I currently serving, in small group ministry.
What is a PTM? A PTM is essentially a non-ordained church staff member who, together with the Church's lay leaders, assists the ordained pastors in various ministries.
As a Pastoral Care PTM, I was tasked to do hospital visits and also administer the sacraments to homebound church members who are unable to attend church for various reasons such as poor health or old age—and I was also required to conduct wakes. To be honest, I was initially apprehensive as I was not sure such a ministry was the right fit for my gifting's and passion.
What made starting work even more difficult was that in the first few weeks of starting work, the church had a sudden surge of people dying. And because this surge of people dying coincided with me joining the ministry, I was affectionately termed the "Angel of Death." Jokes aside, it was definitely a steep learning curve, having to grapple with the twin jobs of learning what it means to proclaim the hope of the resurrection while simultaneously ministering to grieving church members.
After a less than ideal start, I gradually found myself looking forward to comforting the sick and elderly and also found it a privilege to administer the sacraments to those who are unable to physically receive it in church. I am extremely thankful to God for the opportunity to minister in such a capacity.
After spending 6 months in the Pastoral Care Ministry, I was reassigned to Small Group Ministry.
As a PTM of Small Group Ministry, I am tasked to nurture and oversee over 50 small groups. While my primary responsibility is to foster the health of the small groups under my care, the nature of the ministry means that I spend many more hours facilitating and organising events than I do actually interacting with small group members. Maybe it's due to the current vision of the church and the necessity of certain events which require my attention, but often times I feel as though I am an event organizer. To be fair, the events are all well-intentioned and well conceived, and small groups do benefit from these events. But I wish I can allocate more time to interacting with small groups. Maybe that's a goal for this year!
So, to date, I have been exposed to two different ministries. And aside from the particularities of each ministry which require my attention, as a staff, I am required to participate in catechism classes called Baptism Membership Classes. In addition to these catechetical classes I have had also the privilege of teaching and preaching to various church groups.
Thus, I am very grateful that my current role has afforded me opportunities in many different facets of Church Ministry.
What is an aspect of Singapore's culture you particularly appreciate?
The food!
What has been the most challenging aspect of this transition for you?
I think the most challenging aspect of transition stems from what is also the most rewarding part of my time at Regent—being transformed. Regent caused a paradigm shift in how I think about God, the historic Christian faith, my role as a beloved human being and as a Christian in a multicultural and increasingly pluralistic society. And this paradigm shift, wonderful as it has been, has also resulted in a feeling of dislocation—dislocation because I am thrust back into an environment that is somewhat familiar and comfortable but at the same time completely foreign.
An example of an area in which what I learned at Regent contrasts with an aspect of my current culture would be how one views Christian vocation. Regent correctly re-orientates its students that serving the Triune God is not just relegated to serving in the ministries of a local church; rather, service to God is essentially a fulfilment of God's redemptive work in all aspects of life—in the marketplace, in the academy, and in the local church.
With this understanding of what it means to serve God, I find it both a challenge and a delight to share with friends, congregants, and family members that "ministry" is not just done in church but in actual fact, should be conducted in all facets of life. While it is certainly exciting to share how my view of ministry has changed, it has also resulted in frustration when people dispute or disagree with what I think is a thoroughly Biblical view.
Tangentially, at Regent I had the privilege to enjoy a community of like-minded believers; however, returning home, the absence of such like-minded believers, where no one understands sacramental ontology, perichoresis, or kenotic Christology has exacerbated the sense of dislocation. And this sense of dislocation is not soothed by the busyness of vocational church ministry.
How have you seen God working in these challenges? What have you learned?
God has constantly reminded me that it has been a privilege to attend Regent. He also constantly reminds me of Packer's refrain that "Theology must lead to doxology." The theology I learned at Regent needs to be deeply integrated into my daily life and my daily worship. My time at Regent challenged me to adopt a more thoroughly Christian and redemptive praxis—to bring Shalom to wherever I am—and especially places where I feel the most dislocation.
In light of these truths I have been able to share with friends and colleagues this renewed sense of what it means to be a child of the triune God and also to participate in God's story. And it is only through God's favour that I am able to share what I have learnt.
Another sign of God's favour in my time of dislocation has been the opportunity to interest people in ReFrame! Individuals in my church have expressed interest in ReFrame as potential bible study material. Hopefully, in a few months time, I will be able to facilitate a ReFrame learning group at my church!
So what have I learned through my time of transition and sense of dislocation? I have learnt that the God I worship is sovereign and is constantly inviting me to participate in his work of redemption not just in times of peace and joy but also in times of dislocation.