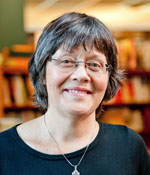 Laurel Borisenko
(DipCS '87)
Laurel Borisenko came to Regent after teaching English for two years in mainland China. After a stint with InterVarsity Christian Fellowship, she worked for several years in refugee and immigrant integration in Canada. In 2001, she took her first international position in Geneva and hasn't looked back. Since then, she has been working internationally in humanitarian aid and emergency relief in numerous African countries with international, faith-based NGOs (Mennonite, Catholic, Lutheran, Protestant). She is also working on a part-time PhD, looking at how communities that have been through violent conflict use creative expression to move toward healing and reconciliation. Recently, she has been seconded to work with UNICEF in eastern Democratic Republic of Congo where she will assist Congolese partners in putting child protection strategies in place for children internally displaced by the ongoing violence. In between contracts, she can be found overlooking the ocean from her home in Chemainus on Vancouver Island.
My most recent contract was in a small village in the south of Chad. In addition to my regular work, I taught English to a group of colleagues. One class we discussed polygamy, which is legal and common in Chad among both Christians and Muslims. I informed the group that in most of the world, polygamy is illegal. The Christians and Muslims looked at me with surprise on their faces. "But that is so selfish. How do you take care of women who have lost their husbands, or who can't find a husband?" I then told them that in many Western countries, same-sex marriages are legal. They all looked at me with even greater shock—the kind of look I would get when telling my church community in Chemainus that in Chad, polygamy is legal. While this was an amusing story, what I did not find so amusing was the hypocrisy around gender and sexual orientation issues. I was aware of pastors who spoke out vehemently against homosexuality, and yet themselves were having extra-marital affairs.
One very positive experience I had was working as co-regional director with Mennonite Central Committee in Burkina Faso. I was on a leadership team with a Burkinabe and a Chadian colleague. In fact, this was why I took the position—to have the opportunity to work on a team at an equal level of responsibility with two African men. I find it disturbing that, in 2013, the approach of Western organizations—be they mission-oriented or NGO—can still be colonial. The norm is to have a Western European country director supported by national staff in program positions. It was such a privilege to work at an equal level with my African colleagues, to be enriched by their worldview, and to have my own perspective respected. They taught me the importance of community, sharing, and helping each other, whereas I taught them the importance of human rights and social justice. I see people with Western and non-Western Christianity worldviews work well together when they learn from each other with respect and seek out their common humanity. Humour is one of the greatest door openers, as well as curiosity.