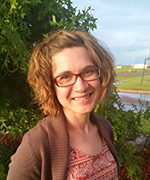 Laura Werezak
(MCS '11)
Laura Davis Werezak (MCS '11) is wife to Clint (MDiv '12) and homeschooling mother to Lucy and Julianne. She has just completed her first book Attend: Forty Soul Stretches Toward God, an extended exploration of the truths of Isaiah 30:15, which will be published by Faith Words in late February 2017. Keep up with her writing on Facebook, Instagram, or through her soon-to-be-reinstated Tiny Letter.

Lord, be our home.
Two years ago, I stood in my kitchen in Vancouver, with an anxious ache in my side. A stack of smooth beige packing paper laid on the counter in front of me in our 680-square-foot garden apartment. The paper crinkled and crunched as one by one I took down the red, orange and yellow Fiestaware dinner plates out of the cabinet and wrapped them, placing them into a box.
Tears rolled down my face as I packed. Once the box was full, I shoved it against one wall of the tiny living area, now stacked almost to the ceiling with everything we owned. I couldn't seal the boxes closed because the loud tearing sound of sticky packing tape would wake the baby and her three-year-old sister. I wasn't overly eager to seal the boxes either, because I had no idea when or where I would open this box again to make a new home for our family of four.
On an index card taped to one of the white kitchen cabinets, I had written Isaiah 30:15, to keep it where I could see it.
"For thus said the Lord God, the Holy One of Israel:
'In returning and rest you shall be saved,
In quietness and trust shall be your strength.'"
My husband Clint and I had come across this verse separately as a part of the compline prayers we said before bed, and immediately we felt a deep, resonant longing for rest and for God's salvation. We were in an intense period of our lives: waiting (and waiting) for God's call so Clint could begin ordained ministry, growing our family, teetering on the edge of exhaustion as we worked hard to make ends meet, and showing up every few weeks to a counselor's office to talk about post-traumatic stress and post-partum depression. Moving home closer to our support systems seemed like the best thing to do.
We planned first for five months at Clint's parents' place in Calgary, Alberta, then six months or so with my parents in Southwest Oklahoma. We packed up and sold off our belongings. And as we packed, we prayed: God, we are returning to the places where we first met You and to the people who introduced us to You. We put our trust in You.
It was not so much that we had left God, but that at this difficult time in our lives, we needed to choose God's way through, and not our own.
Clint and I are not alone. The statistics show: we are far from the only ones in the millennial generation to end up living in our parents' basement again.
In May of this year, the Pew Research Center released a report saying that in the United States today young adults (ages 18-35) are more likely to live with one or both of their parents (32.1%), than to live with a spouse or partner (31.6%), as an independent head of household (including living with roommates, or single parenting; 14%), or in other living arrangements (like college dorms or living with other family members; 22%). This is true for the first time in 135 years of US census data. Although Clint and I are statistical outliers in some ways (like the fact that we are married and living with parents), I have a hunch that the Great Recession has hit those of us starting out in ministry hard. Like Abram and Sarah we have to set out in faith toward the next leg of the journey unsure of our destination. This sense of unsureness only grows when we're pulled right back to where we started in a culture that values rugged independence as the ultimate sign of adulthood—an inversion of the Ancient Near Eastern culture where families stuck together. In both cases, though, God's good news seems to work best against the grain of culture.
I was twelve years old when my family moved from Altus—in the dry, flat plains of Southwest Oklahoma—to a suburb of Indianapolis, Indiana. My best friend from Oklahoma, also a US Air Force pilot's daughter, gave me a framed print with a drawing of a beautiful home and the words: "You never really leave a place you love, part of it you take with you, leaving a part of you behind."
When I think of what I brought with me and what I left behind in Oklahoma, I think of the tall oak tree we had in our back yard, shading us from the sweltering summer sun: the crabapple in the front with flowers so pink they lit up our whole spring, and apples so sour they made my aunt pucker and spit them out. There was the wind always rippling through the dry yellow grass, carrying threads of new-grown cotton like spider webs to catch on the play set in our back yard, and wearing down the round old boulders of the Wichita Mountains—the oldest mountain chain in North America. I think of the flat fields of red dirt on the edge of town, where I used to ride my bike to watch the sunset at the end of our street. I can hear the cicadas rattle and feel the sweat and dust of one hundred degree summer days on my skin just thinking about it. It's the place in the world my body remembers. Where I counted ants, played outfield, split blades of grass with my thumbnail and made mud pies.
Returning as an adult, it was striking to me how flat it is in this part of the world. From my parents new yard on the North edge of town, you can see all the way to the horizon in three directions, its line broken only by the worn and ancient outline of Quartz Mountain.
When we moved back, I took my daughters to the playground near the local reservoir, the Yogi Bear teeter-totter and squeaky swings remarkably unchanged since I used to play there as a child. I wracked my brain for the word to describe the feeling of living in this place, its fierce heat and wind and the incredible weight of sky. Harsh? Bitter? Blinding? No, those are not right. Exposed. To live in southwest Oklahoma is to live exposed. To the sun, to the rain, to the wind. At the mercy of God and of acts of God, with nowhere to hide. Even the tallest homes seemed pressed down and laughable under that great blue bowl of sky.
It was hard to come back to Altus: to live in my parents' space, to interrupt their busy lives, to watch my kids knock over their valuable décor. Another friend who was living with her husband's parents expressed to me as her husband interviewed for a new job, "Won't it be nice to have our own spaces again? I'm really excited to organize my own refrigerator."
In my parents' home, I felt like the 12-year-old I was when I moved away and the displaced college student I was when my parents first moved back. I felt vulnerable, like the years I had invested in education, travel, and career had been erased. At night I dreamt that I had to repeat middle school now as an adult, because the records had been lost. And yet, until we moved back, I had never realized what a big part of myself I had left behind.
I came to Altus changed, and yet in so many ways still the same person as that little girl growing up in the eighties. I still depended on my parents. I was still full of questions about God. And I was still trying to find my way in the world, one dusty sunset at a time.
It felt like a gift to give my own little girls a chance to live for eighteen months in this place, and to know it with their bodies too. The grasshoppers and the jackrabbits and the cotton blowing in the autumn wind. We never expected to stay so long, though. We called the first year a sabbatical, we pared our lives back to make room for returning to friends and family, for rest and for quietness. We learned how to pray again. Every day getting out of bed felt like a wacky trust experiment where we made a blind fall into God's arms. Clint did freelance audio work online. I invested the time to turn my writing into a fledgling career. Our oldest started preschool in a small local Christian school. The baby learned to walk and talk. My mom baked and cooked and played with the kids for hours. I visited my dad in the hospital when he had an outpatient cancer treatment, just to hold his hand for a few minutes as the anesthesia wore off. We shared family meals and squeezed into the underground tornado shelter on stormy nights. We got together with my siblings, who lived a few hours away. We built routines and memories. We negotiated menu plans and grocery lists. We fought, apologized, and strained to listen a little better. Bit by bit, God broke open wounded places in my life, cleaned them out and healed them.
Last month, I collected my box of Fiestaware dishes from storage at my in-laws in Calgary. I haven't unpacked it yet, though we have a destination in mind now. But the ache that I felt when I packed that box is gone. My prayers slowly shifted over the two years from "Lord, give us a home" to the simpler, humbler "Lord, be our home." The simple truths of Isaiah 30:15 proved true. Returning to God and to our families, learning to pare back our busy lives and to rest, quieting the noise resounding from our own neglected souls, and leaning in trust on God were a good road to salvation and strength. Slowly we have learned to make our home in God.