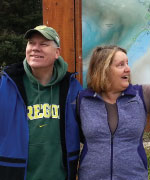 Julie & Norman Johnson
(DipCS '79)
Julie and Norm Johnson live in Eugene, Oregon. Since their marriage in 1978, Norm and Julie have welcomed more than 60 individuals of all ages from eight nations to live in their home. Julie has been an integral intercultural mentor to these individuals while raising two wonderful children (a son and daughter), volunteering, working, and coping with the perplexity of mental illness and recovery. Norm earned his Diploma in Christian Studies from Regent College in 1979 and has taught English as a Second Language at Lane Community College for 30 years.
Julie lived for nearly two decades with an undiagnosed brain tumour that gradually brought on severe mental illness and altered her personality. Since the successful surgical removal of the tumour, Julie and Norm have been on a journey of profound healing. In this email interview, they tell their story from their individual perspectives.
Can you tell us a bit about your history with mental health?
Julie: My descent into mental illness began sometime in my twenties or thirties as a result of a brain tumour. Our main struggle as a family for the next twenty years arose from our ignorance of the tumour's existence. The tumour impacted everything about me: personality, behaviour, activities, interactions, physical weight, emotions, employment, and relationships. Its subtle and slow development was barely perceptible, but it progressively took over what had been me. By 2005, I had lost my job and could not get another one. My children lost their mother, my husband lost his wife, I lost friends, and we lost income.
Norm: During the years leading up to Julie's diagnosis, we increasingly struggled as a family to understand and cope with negative changes in Julie's behaviour. Since surgery successfully removed her tumour, we have been on a new journey: learning about and adjusting to Julie's changing capacities and, most importantly, learning how to live together, whatever our state, with compassion and hope.
In addition, the crucible of Julie's mental health crisis revealed an area of my own mental health that needed healing. When confronted with her socially destructive behaviour within the family, I responded poorly with attempts to control her behaviour through reasoning, then blaming and shaming, and eventually physical confrontation.

When did you realize you needed outside help to cope with the situation?
Julie: We didn't know that I had a brain tumour until 2006. I first sought outside help for physical symptoms. In 2001, I became aware that I was losing my sense of smell. A physician examined me and recommended an MRI so that he could surgically remove the obstruction that seemed to be there. However, I was fearful of surgery so I did not get the MRI.
I sought opinions from two other doctors concerning weight gain, mental fuzziness, forgetfulness, fainting, and lethargy, but no one realized the cause might be neurological. Eventually, I became so mentally and physically impaired that I could no longer convince myself to walk, use my hands, dress, bathe, or reason.
Then my vision changed. Somehow my desire for new glasses overcame my lethargy and inability to follow through. The ophthalmologist performed an extensive exam and made an appointment for an MRI of my brain the following week. This time I consented.
The neurosurgeon was the first person to understand my condition: I had a meningioma tumour in the lining of my skull. It was located in the frontal lobe, the part of the brain that controls executive functions: decision-making, moral and ethical choices, prioritizing, filtering, initiative, focus, motivation and drive, and so much more. Two weeks later, on September 15, 2006, he removed a tumour the size of a man's balled fist that had squeezed the healthy, swollen brain tissue against the hard skull.
Norm: During the ten years before Julie's diagnosis, I repeatedly suggested that we get marriage counselling. I also suggested that maybe she was depressed and should seek help for that. In her compromised state, Julie was unable to accept help for these issues.
Regarding my own need for emotional growth and healing, I realized I needed help when we eventually began to have physical confrontations. I could no longer hide from the abusive turn in our relationship.

What supports (friends, community, professionals, etc.) did you find to be helpful as you were working through your diagnosis?
Julie: Due to the impairment of my brain, I had no sense of how serious the surgery would be. It was as if I was in a state of suspended animation. My husband and sister chose to be at the hospital at the time of surgery. The neurosurgeon's reassurance and explanations were very valuable to me.
Norm: I was helped by a men's group at a Christian counselling service that specializes in addressing abuse within Christian families. I turned to this organization again during the last year prior to Julie's diagnosis for one-on-one counselling, seeking help with coping as Julie's symptoms became increasingly disruptive in our family.
I was also supported by three close friends from earlier seasons in my life (now all at a distance) whom I contacted multiple times by phone during the last two years of Julie's illness. They each listened, prayed for me, and expressed willingness even to come to Oregon if needed to support us.

Were there any responses that you found unhelpful?
Julie: Before the surgery, people desperately wanted my behaviour to change. They tried to convince me to change through logic, blaming and shaming, guilt, physical force and abuse, yelling, fear, and threats. My behaviour and attitudes made no sense to them. I later learned that Norm had considered divorce because he believed I no longer cared about him. While all this was going on, I was ebbing farther away, which only made everyone more angry and frustrated.
After the surgery, people blamed me and expected apologies for words, actions, and inaction over which I'd had no control. My husband and children were estranged from me. It took time for them to adjust to the new "me" and for me to regain their trust.
Norm: As Julie's illness progressed, friends and family increasingly avoided us and let our relationship fall by the wayside.

What has your recovery looked like?
Julie: I pursued counselling and therapy, sometimes along with Norm. Community Rehabilitation Services of Oregon is a rare therapeutical practice specializing in brain injuries. I received cognitive, occupational, and psychological therapies for three years, sometimes including other family members. Without these skilled professionals, I'm not sure I could have survived the chaos of the healing brain. The first two years of recovery were especially difficult and unpredictable. We had no idea what recovery from brain surgery would look like or how long it would take and I had to rest every day as my brain rebuilt broken neural pathways.
In terms of emotional recovery, Norm and I had to consciously "draw a line in the sand" concerning the past, the present, and the future. There is literally nothing we can do about the pain we each suffered—it was immense! Painful memories and flashbacks are part of our daily life. If we dwell in the past, it will destroy our covenant of marriage in this present time. We had to understand and agree, though it was difficult to accept, that I'd had no control over my brain before nor immediately after surgery: my will had been taken away. By the same token, I cannot begin to understand the anguish, frustration, and suffering Norm experienced all those years when I was not myself.
Norm: We were helped during Julie's recovery from surgery by a hospital social worker who suggested that we simply choose to forgive each other for all that had happened in the preceding years. I learned more about the power of forgiveness by following that suggestion than in all previous Christian teaching I'd received on forgiveness.
Later in Julie's recovery, we finally connected with an organization that specializes in rehabilitation of traumatic brain injuries. Meeting as a couple with a counsellor was very helpful, especially in adjusting our expectations of what healing and rehabilitation would result in, and how to navigate daily interactions in our new situation.

Was the church a positive presence in your life through that time? Was anything particularly helpful? What could have been different?
Julie: People in the church had no idea that anything was seriously wrong in me or in our home. Addiction and abuse are acknowledged and addressed in sermons, groups, and classes in the church and in the community at large, but mental health is often ignored. Members of our church community are left to hide it from others in confusion and shame rather than receive support, education, and resources.
Norm: Due to Julie's illness and my attempts to cope with it, I became increasingly isolated from other relationships. One of the suggestions I received from the Christian counsellor I met with in the last months of Julie's undiagnosed illness was that I needed to reconnect with other relationships outside of the family. I was able to approach two acquaintances at our church about forming a new small group that would meet at a time of maximum flexibility for me. They remained faithful to me through the final months of Julie's illness and her long healing process, even to this day.
In recent years, one of the pastors in our church has invested significant time in us as a couple, supporting us in a journey toward healing, and training us to lead a regular six-week discipleship class to support others in their journey to healing and freedom.
In the last year, we have found a support group within our church where we as a couple can be vulnerable and accepted; where we can come alongside each other on our journeys, without hiding our weaknesses and failings.

How has the struggle impacted your spiritual life or theology?
Julie: When I hear Psalm 139 preached, I ask myself, do we believe this? Is this true even for a mentally ill person? "For you created my inmost being; you knit me together in my mother's womb. I praise you because I am fearfully and wonderfully made; your works are wonderful, I know that full well. My frame was not hidden from you when I was made in the secret place, when I was woven together in the depths of the earth. Your eyes saw my unformed body; all the days ordained for me were written in your book before one of them came to be." (Psalm 139:14-16, NIV)
I've realized that mental and physical impairments can and do happen to anyone, Christian or not. The least the church community can do is acknowledge this openly. Every person is unique. Their impairments will be unique as well. Encourage families to speak openly about their experiences and offer education and support. Let's take mental impairment out of the closet and bring it into the light of Christ and the community.
Norm: Although I thought I had a theology based on grace, I've discovered that I didn't extend the same grace to others that I expected to receive from the Father. I've had to reconsider how much my sense of acceptance has been based on performance. I've also come to realize how much my life was centered in ideas and lacking in relationships.
As we have participated with God in our healing, Julie and I have both been reconnecting with God in a love-based relationship that is freeing us to connect with others both in the church and outside the church with grace and mercy.

What strategies and practices help you on a day-to-day basis?
Julie: I seek counselling and therapy when I need it, in order to process what is going on in my mind and heart. I have a Christian mentor who also lived with mental illness and I have regular Christian fellowship with groups of people.
I also celebrate who I am without guilt. My personality is not the same as it was, which is an adjustment for those who knew me. It is a very sad fact that people who are differently brained due to injury often lose most or all close relationships. They are not the same people they were before and their friends and family believe they have a right to leave them when change occurs. Abandonment is a very real issue for mentally ill people.
Due to fatigue, unpredictable emotions and memory, and a healing filter, I have also been thankful to receive disability benefits so that I can take life at a manageable pace without the pressure of outside employment.
Norm: Although I thought I had a personal relationship with Jesus, my relationship with God had actually come to resemble that of a Facebook friend. From time to time, I might post my prayer requests on his "page" and at other times, "like" what I happened to notice he was doing. But it was not a true relationship. I'm enjoying renewing an intimate relationship with our loving, creator God, nurtured and experienced daily—something I had in my youth and "Regent years" but lost during our "wilderness" years.
One other strategy we've had to develop is how to deal more effectively with our failures. Since we are certainly going to fail in some sense every day (and others are going to fail us), we practice a simple discipline that we term "cycling." When fear, shame, frustration, or distrust disrupt our relationship with God and others, we turn to God and ask: "God, what do you think about this person/situation? How do you feel about this?" As we take the time to listen to God and to align our thoughts and emotions with God's, we experience empowerment by the Holy Spirit to love and serve others out of trust for God and out of his grace and mercy in our lives.

Looking back, what have you learned from your experience?
Julie: Rather than assume people are curmudgeons, I am conscious that I don't know what's going on in their bodies and that they may not be conscious of it either. Rather than expect everyone I encounter to be healthy and "normal," I process their behaviour with less irritation and am more accepting.
I've also realized that I don't know what's going on in other people's homes, whether they are Christians or not. Even if they look well put together, they may be suffering. I am ready to minister as people reveal their pain.
My experience has also raised a lot of questions for me about how we approach people who are "differently brained." Because we all have the right to refuse treatment, people with mental impairment often end up going through life without the necessary tools to meet their daily needs. I believe we need to be more aggressive in seeking medical help for other people. I wish someone had forced me to see a specialist. Instead, in my situation, the illusion of choice kept me from getting treatment. I regret that I lost so many years of my life. I lost income, work, and dignity, and caused so much damage to relationships – things I never would have chosen. Intervention was overdue, and in the end, I was the one who pursued it under the guise of needing a new prescription for glasses. Thank God for the ophthalmologist!
Norm: We believe that each person is deeply valuable, regardless of their sometimes very imperfect behaviour. We often use the expression so-and-so must be "differently brained" as a reminder to not judge others based on their behaviour.
We are also in awe of our creator God's continued regeneration of neural pathways in our brains, providing an opportunity for growth and learning in each of us—in Julie's case, long past the nine-month time frame in which her neurologist stated she would see recovery of brain functions lost to the tumour.
We are very much aware that we are still "in process," with much more healing and new creation needed. We pray that these words, inarticulately expressed, may somehow comfort and encourage others who may have mental health challenges in their lives. We also pray that each of our churches will become a place where all are welcome—even those with ongoing mental health issues.