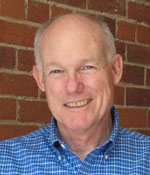 John Telgmann
(DipCS '81)
John Telgmann is a Certified General Accountant who works as a Financial Controller at Educational Testing Service Canada Inc. in Kingston, Ontario. Prior to this, he has worked in a variety of accounting and financial companies in British Columbia and Alberta, as well as operated his own public practice. Additionally, he spent time as a missionary in West Africa and the Philippines. John's financial background and passion for ministry have combined in exciting ways. In 2011, he founded the charity Friends of Koura in Canada in partnership with the Koura Baptist Church, to construct and operate a health centre in Koura, Mali. His employer, ETS Global, has even chosen to fund an initiative Pens for Success that provides primary school children in Koura with writing supplies. John's other ministry interests include supporting Filipinos doing Bible translation and community development.
Ten years after working in West Africa as a Finance Officer for the Cote d'Ivoire/Mali Branch of SIL International, sister organization to Wycliffe Bible Translators, I was missing Africa. So I volunteered to do an audit while on vacation. I also visited my friend Mr. Djilla, a Bible translator into the Jowulu or "Jo" language, in the remote village of Koura that has no electricity, high school, or running water. Mr. Djilla is also an elder of Koura Baptist Church and he approached me about helping them serve the community by building a faith-based health centre.
Even though we were brothers in Christ, I anticipated one particular challenge in this joint venture—the cultural differences over "money matters." Western governments and donors require transparency and accountability. However, many non-Westerners see resources more holistically in the context of all life's changing needs, and thus have different priorities and temptations when it comes to allocating money. After much prayer, research, and planning, I carefully explained to my friend the need for mutual planning, budgeting, segregating project funds from general church funds, and regular financial and operational reports. I assured him these practices are not meant to be neocolonial but what our government requires of charitable organizations in return for the privilege of donation tax credits. Fortunately, my friend was already doing accounting and reporting for the SIL/Wycliffe "Jo" language project. I praised God that, after talking with him, he exclaimed, "I understand!" Together, we wrote the agreement and construction started while I was there in 2011.
On another visit six months before the official opening of the health centre, I realized another area of potential tension between Western and non-Western cultures. I nervously participated with the church elders in healing prayer for a woman who had been bleeding for years and could not be helped by any doctor or health centre. In the next few days, she was miraculously healed! One of the Christian women praying, a former Muslim, was also healed herself some years before. I thought, why do these people want a health centre? But the experience humbled and reminded me that God is all­-powerful and that rather than either/or, it can be both/and: Western medicine and typically non-Western Christian faith approaches to healing.
At the official opening of the health centre in August 2012, the Malian government representative exhorted the population to send their patients to the health centre instead of waiting for the traditional healers. Now, after the first year of operations, about 2000 patient treatments have been undertaken. It seems if you build it, they will come. Yet members of the Koura Baptist Church still go every morning to the health centre to pray for the day's treatments and to ask for God's healing, protection, and wisdom. These African Christians challenge Western Christians to faithful, expectant prayer for all life's needs.
Now, a year after the official opening, we are receiving timely, accurate, and complete spreadsheets of the finances, as well as written reports of successful medical treatments—a good witness of the local church to their neighbours in Koura and other surrounding villages.