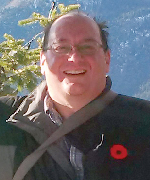 Jim Galbraith
(MDiv '97)
Jim Galbraith was born in Toronto and moved to Vancouver when he was eight years old. He attended Regent College from 1994 to 1997, graduating with an MDiv and becoming a pastor. He currently serves with Flin Flon First Baptist Church in Manitoba. He enjoys geocaching, reading, ski-dooing, and fishing (from the shore, in a boat, or on the ice). He and Lori and have been married for twenty-five years. They have three grown sons and a puppy named Ruby.
Can you tell me a bit about your journey with mental health?
I grew up as a bit of an outsider; never the popular kid, and sometimes bullied.
When I was nineteen, I remember feeling very "blue" in the fall, even though I had grown up well, was healthy, strong, and finally enjoying some popularity. At the time, I was in Bible College training to be a pastor, but I still couldn't shake the feelings of anxiety and depression.
This sense of sadness came every fall afterwards. When I started to put on weight, it started to come any time of the year. My attitude about life has always been affected by my weight.
When I contracted leukemia in 2012 at the age of forty-four, the treatment and chemotherapy left me with strong and constant symptoms of depression and anxiety. I was afraid to drive or make important decisions, and my faith was very badly shaken.
When did you realize that you needed outside help?
Surviving cancer is a special blessing, which also comes with hardship. When you live, but a twenty-two-year-old treated at the same time as you dies, "survivor's guilt" becomes a very real thing. Several others who were healthier than me when diagnosed have since died, and every time I wonder, why them and not me?
Soon after treatment and the initial one hundred days of recovery, I returned to the church I pastored, with the understanding that I wasn't expected to do anything at all. If I was feeling up to coming, great. Otherwise, I could just take it easy.
A member of the church was diagnosed with the same leukemia I had survived, and was told he could not be treated. The fact that he had mental health issues made it harder for him to understand what was going on. He died less than a week later, asking, "what did I do to deserve this?" while I held his hand and told him, "nothing—it's not a punishment from God." He also wanted to know why God wouldn't heal him like he had healed me. That broke me up inside—what could I say? He died and I presided at the funeral, but afterwards, I was very shaken.
This left me, as a pastor, unable to honestly tell someone that God would stay by their side during a difficult time. When another member of our church came to me and told me that he was done with faith, I struggled not to say "me too," even though I had just survived cancer. That's when I knew I needed to seek help.
What supports did you find to be helpful as you were working through your diagnosis?
My wife was my strongest supporter, as were my three grown children. The community has a mental health worker that I talked to once after I began medication. He was understanding, and even though I didn't pursue further visits, I appreciated his empathy.
Friends that I talk to about it can help, especially if they've suffered from mental illness themselves.
Were there any responses that you found unhelpful?
From particular people, no. I'm well aware that there are people who deny the reality of depression and write off mental illness as nothing more than sin in our lives. I have never been one of those people and fortunately I haven't had too many personal encounters with them.
Was the church a positive presence in your life through that time? If so, what was particularly helpful? If not, what could have been different?
The church had already supported me fully through my cancer, so when I told them I was suffering from depression, they were very understanding and accommodating.
I didn't tell them all the details about my faith struggle, just that I was suffering from depression as an after-effect of chemotherapy. I have since opened up more to some, and have been received well.
How has the struggle impacted your spiritual life or theology?
It has made me aware that we can still hold fast to our theology, even when our very souls seem to be crying out against it, or in contradiction to it.
It has also made me much more sympathetic to those who suffer from mental illness.
What strategies and practices help you on a day-to-day basis?
There are a number of practices that help me to cope on a daily basis. Medical treatments for depression and anxiety are an important part of maintaining my mental wellness. Celebrating family milestones such as birthdays, graduations, and births of babies help me to enjoy life. Walks outside, swimming, bike riding, and ski-dooing give me a thrill that combats the hollowness that can come with being too sedentary. Playing worship music in the background, especially when working or driving, helps me establish a grateful, blessed mood. I also find that reading books by people who have struggled, like Brennan Manning, builds me up. Finally, getting a dog has made me very happy.
Is there anything else you'd like to share with our readers?
Talk about your mental illness. Find people you can trust, and open up. You don't have to "feel" your theology to hold true to it.