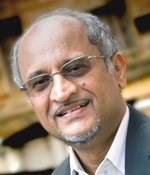 Ivan Satyavrata
(ThM '91)
Ivan Satyavrata spent several years in Christian leadership training and presently serves as Senior Pastor of the Assembly of God Church in Kolkata, India. The church has a significant social outreach, providing education and basic nutrition for several thousand children in and around the city of Kolkata. Ivan's interests include Christian evangelism to people of other faiths and exploring the Christian response to social issues, especially human trafficking. He has authored two books: Holy Spirit: Lord and Life-Giver (InterVarsity Press) and God Has Not Left Himself Without Witness (Wipf & Stock). Ivan's wife Sheila and their sons, Rahul and Rohan, are the pride and joy of his life.
My wife Sheila and I live and serve Jesus in Kolkata, India—a city described as the City of Joy by two European authors in a book so named. Strategically located as a gateway to Southeast Asia, a bustling hub of industry, commerce, and cultural engagement between east and west, Kolkata was at one time the crown jewel and capital of the British Empire. Globalization hit Kolkata long before the word was invented. Yet intermittent political unrest, social strife, and economic adversity have ravaged the city relentlessly in subsequent decades. Today, Kolkata has acquired a reputation for being one of the poorest, most polluted, and darkest corners of the planet.
Just over fifty years ago, Canadian missionaries Mark and Huldah Buntain started the ministry that Sheila and I are privileged to lead today. The hub of our mission is a vibrant, multiethnic church of about 4000 Christ-followers from diverse religious, ethnic, and socio-economic backgrounds who worship the Lord in eight different language sections week after week. Our social outreach includes feeding close to 10,000 underprivileged people every day for six days of the week, offering free education, basic health care, and healthy nutrition to over 2500 underprivileged children. We also provide hope and rehabilitation to those trapped in sex slavery in the red-light districts of our city.
Our City of Joy warmly welcomes visitors and friends from the West, especially Christ-followers and others who come to work alongside us in compassionate service to the poor. Our most famous citizen was a little Albanian nun named Agnes Gonxha Bojaxhiu, more commonly known as Mother Teresa. If Kolkata is one of the few places in the Majority World today where "missionary" is not a bad word, it is because Mother Teresa called her order "The Missionaries of Charity." Today, volunteers (or tourists with a difference) continue to come from all over the world to work alongside the Missionaries of Charity and other Christian church communities and service organizations like ours, many of which are struggling to live out the claims of Christ in the midst of the harsh and painful realities on the crowded and polluted streets of Kolkata.
There is something about need, pain, and suffering that brings out what is beautiful within ordinary people. The philanthropic tourists are drawn by Kolkata's "beautiful" poor, although their best skills and efforts are often dwarfed by the overwhelming need around them. But even the feeblest and faltering efforts of a genuine dispenser of grace almost always succeed in touching and making a difference in someone's life. What is amazing is that many of those who give of themselves inevitably find their own healing, purpose, and joy through their Kolkata experience. We have seen it happen over and over again—broken people experiencing God's kingdom miracle of grace as they discover with surprise that it is more blessed to give than to receive. No wonder our city is called the City of Joy!