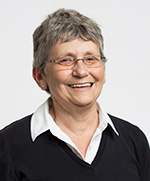 Marion Maxwell
(DPCS '72)
Marion Maxwell (GradDipCS '72) comes originally from Edmonton but has lived most of the last thirty years in Vancouver. She is currently the Services Coordinator at St. John's Vancouver, an Anglican church in the city.
I Just Keep Giving Away My Vegetables
Being in Community Might Mean More Time in Silence
What first brought you to Vancouver?
I first came to Vancouver to go to Regent in 1971. I think I was in the second class. There were forty-nine of us! I had been working for InterVarsity and wanted a basic training in theology. I got so much out of it! What was amazing was that when I went back to InterVarsity to work in Calgary, I used every single thing I learned. Nothing—nothing—was wasted! I taught so many Bible studies to so many different kinds of kids.
From Calgary I worked in a house for delinquent kids and then moved out to Toronto for two years to learn to listen to God. I lived in a laundry room and spent eight hours a day in silence. I ate dinner with other InterVarsity staff workers but that was my only time of conversation.
And since those years of learning to listen?
I went back to work for InterVarsity, and from that work, I became a Mum for delinquent kids for six years. After that I was a hospital chaplain. Several years later I decided to move to Vancouver with a family I was working for—and immediately began to get involved at St. John's Shaughnessy Anglican Church. I was doing pastoral care, adult education, all kinds of different things. I joined a Bible study that I am still a part of!
In 2005 I went to work for Genesis [Vancouver], opening and directing a house for former prostitutes with children. I loved it but the staff turnover was so hard. From Genesis I went to work for St. John's, as both the director of the services and overseeing the facilities management.
How have you found community amidst all these changes?
The church has always been my big community and within in it, two small groups. One of them I have been in for thirty years. I love connecting with people of all ages. I love connecting other people with each other, helping them make connections.
I'm really, really lucky but almost nothing bothers me about community. It's weird! The former rector of St. John's, Harry Robinson, was worried when I came to St. John's that the community there wouldn't meet my expectations. But I don't expect it be something. I know now that not expecting anything is a gift. I'm grateful.
You've mentioned your commitment to listening to God. How is that part of your life in the St. John's community?
Ever since I went to Toronto for those two years, I have tried to keep a chunk of every day to be quiet. Every day. I use the Psalms, reading through them in the Book of Common Prayer, morning and night. I do it twice every day.
I try to be silent for a full day every week. No phone, no music. Nothing. I try to skip email that one day but that can be really hard in my job.
I garden a lot. My weekly day of quiet and time in the garden are both times of intense prayer. I commit to praying for people, often for a set period of time. And as God brings people to mind, I pray for them.
I pray for the people in my small groups very regularly, not just for what they ask for prayer for—for what they say—but for what God draws me to pray for them. I always try to keep silence, to be quiet as much as I can.
During Advent and Lent I focus my prayer differently—these special times of year I change what I read in Scripture and how I prepare, for both Christmas and Easter.
I am reading through the whole Bible this year with the church staff. Right now I am reading Deuteronomy and Matthew together. It's so amazing to see the Law through Matthew's Gospel.
How do you see this as a single person?
I am a bit of a hermit. I really need my time alone and I think that's one of the gifts of being single—the time to be alone. It can be one of the hard parts as well. I have been fortunate—and intentional—that I not only have my close friends but their husbands and their kids and their grandkids as my friends. I have twenty-year-olds for dinner at least as often as thirty- and forty- and sixty-year-olds. I try to have families with young kids over for dinner. I can do so much that people with families can't. I can be silent, take time to pray, study Scripture. I can have people over a lot.
As a single person you have to be in a small group and really get to know people. You can't let yourself be afraid. You've got to be the inviter because everyone is waiting for others to invite him or her too. Most single people think they should wait for others to invite them but it is just not true. Ever.
We all need to know as many people of different ages as we can. Last week I had a long talk with a seven-year-old!
I just keep giving away my vegetables from my garden and having people over. Just keep feeding people. You won't be lonely.