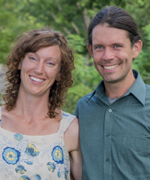 Erin & Robert Lockridge and the Moriah Pie Pizza Café
(DipCS '10 & MCS '10)
Robert Lockridge and his wife Erin run Moriah Pie, a pizza café in Norwood, Ohio, a suburb of Cincinnati. Moriah Pie is based on a unique model. Using only produce grown in their neighbourhood (and purchasing wheat, cheese, and oil), Robert and Erin make homemade pizza, salad, soup, and pie, and serve the food on a pay­-as-­you're-able basis. The café, which is only open Friday nights, has attracted a great variety of folks from the neighbourhood. Robert looks after growing the food, tending several city patches of land. In addition to cooking for Moriah Pie, Erin runs a "garden camp" for neighbourhood children, teaching them gardening and culinary skills, while discovering the wonders of creation on an urban lot. The Lockridges share a hunger for discovering God's creative love in the most humble places—under rocks and in scrubby tree lots, through their small work, and in the faces of all who walk through the door of Moriah Pie. In this article, they reflect on the particular circumstances of their struggling neighbourhood that gave rise to such a self-sacrificial and loving way of serving their community: through local, homemade food.
---
In our post-­industrial town of Norwood, Ohio, long-term residents—many with roots in Kentucky farm country or the hills of Appalachia—remember the golden years when car manufacturing was the economic anchor of the city and the Catholic church was the religious pillar of the neighbourhood. But the shutdown of General Motors' assembly line in the late 80s and the closing of the local Catholic church soon after has had lasting effects. Today, many residents in our west Norwood neighbourhood patch together a living; some remain trapped in cycles of addiction. Meanwhile, the city's infrastructure deteriorates, properties sit empty, yards grow wild.
An oft-overlooked aspect of the incarnation is that Jesus Christ became bodily dependent upon the world he created not only to forgive us of our sins, but also to reveal to humanity the path of knowing God. Orthodox theologian Alexander Schmemann writes, "the natural dependence of man upon the world was intended to be transformed constantly into communion with God in whom is all life. Man was to be a priest of a eucharist, offering the world to God, and in this offering he was to receive the gift of life."
However, the modern world has distanced us from all the lives upon which we depend, and in so doing, unhooked us from the means of knowing our natural dependence upon God. As a result, it is easy, especially for us city dwellers, to associate provision solely with our jobs or with the socioeconomic and political apparatus of our day. But what happens when the apparatus in which people trust crumbles, as is the case in Norwood and in countless other places?
We believe that the triune God may be known—even in places like Norwood—by redirecting our gaze to God's faithful care for the plants and creatures around us. By tending the soils of our neighbourhood and receiving the gift of God's provision, we can encounter the incarnate King of Glory who upholds and sustains all of creation.
With this idea in mind, we opened Moriah Pie nearly three years ago with the help of many friends. Using only produce grown in this neighbourhood (purchasing wheat, cheese, and oil), we make homemade pizza, salad, soup, and pie and serve it out of a pay­-as­-you're-able, Friday night, neighbourhood café, to which a great variety of folks have made a habit of coming. Moriah Pie, its name derived from Genesis 22, where Abraham discovers that "the Lord will provide," reflects our desire to know more deeply what it means to depend upon God and to invite others into this life-giving, cruciform path. Since we opened, we have received enough income to cover our expenses, employ a cadre of friends, and earn a living.
By keeping the cost and value of the pizza here in the neighbourhood, we hope to work, pray, and commune in a way that is restorative of our human and natural communities and glorifying of God. We hope that, in some mysterious way, the pizza on the plate and all of the life and love that brought it there, is an icon of the one who lived, died, and was resurrected "for the life of the world."