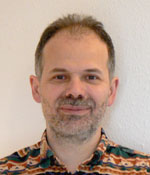 Endi Kovacs
(ThM '00)
Endi Kovacs was one of the first travelling secretaries of the Hungarian Fellowship of Evangelical Students (InterVarsity Hungary) and the founding Chair of the Board of Directors of Harmat, an evangelical publishing house. He has been involved in leadership training with Church Resource Ministries in Hungary for the past twenty-one years. Endi received his training in agriculture and dairy industry at Pannon University and studied Spiritual Theology at Regent College. His main interest has been to promote and cultivate spiritual transformation in the lives of those who serve the people of God, hence his interest in the history and the current practices of Christian spirituality. He and his wife, Kati, a Christian counsellor, live in Budapest with their two children Lilien (16) and Robin (14).
Because of globalization, residents of the European Union experience new possibilities to study, work, and live abroad, but they also experience strong competition, especially in the larger cities, for the best study and work opportunities. These changes help erode the geographical boundaries that used to provide people with safe and fixed identity markers for decades, even centuries. Many who belong to smaller nations (like Hungarians, Croatians, Serbs and others) or ethnic groups (like the Jews or the Gypsies) react strongly against globalization.
Today, we witness a renewed desire for moving towards the small and the local in Hungary and several other regions of Eastern and Central Europe—the local farm, the local business, the local shop and the local community—and people emphasize folk traditions, the mother tongue, and aspects of ancient tribal history in order to find characteristics that set them apart and make them unique as a nation.
This tendency to focus on what distinguishes is strong, but so is the response of the competing majority who bring their versions of global identity. The removal of old borders between countries has brought a resurgence of rivalry and nationalism among the people groups of Europe, and even anti-Semitism and other forms of discrimination. We had a taste of this when we became involved in a newly founded Christian school of more than a hundred families in the northern part of Hungary. During the past eight years, the school's key leaders have turned from an emphasis of living out and passing on the values of the gospel towards an education rooted in the ancient culture of Hungary.
At a time of cross-communal conflicts like this, reconciliation is as crucial as it was at the time of globalization in the first century. The younger churches tend to be more innovative in embodying reconciliation than the more traditional ones, but Western and non-Western Christianity worldviews tend to work well together in terms of reconciliation because Christ who modelled spiritual rootedness while embracing otherness in love leads us all towards the same goal: in humility considering others better than yourself.