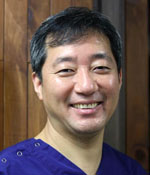 Dae-Kyung Lee
(MDiv '04)
Dae-Kyung Lee's purpose in life changed when he became a Christian at dental school in Seoul, Korea. He married Hyun-Shin who shared the same profession and life vision. The two, along with their children, went to China to serve the Lord and his people for four years. They later visited East Asian countries on short-term missions and currently work at dental clinics in Seoul and Shanghai. Dae-Kyung has a fervent heart for connecting business professionals. As the president of DSI (Dental Service International), he helped organize the Dental Mission Convention held in Seoul. He is also involved in a team ministry with Chinese students.
The education at Regent College has been a great blessing in my life. I went to Vancouver at the end of 2000 with the question, "What is true Christianity?" I lived in Korea when I first became a Christian. Korean culture has deep roots in Shamanism and Confucianism. Once Christian faith came to Korea, it became influenced by the traditional culture. I was not able to differentiate true Christianity from the culture-tinted Christianity. Hierarchy at church, patricentrism, shamanistic prayer practice, a secular value system in Christian community, and the importance of dawn prayer meetings are all examples of the deep influence of traditional culture on Christianity. While studying at Regent and living in Vancouver, I discovered Christian faith through the lens of Western theology and culture. Understanding the Christian faith in multicultural ways helped me to communicate cross-culturally.
Most of the time, people are indifferent towards other cultures, even rejecting them sometimes. By understanding different cultures and becoming one through the blood of Jesus Christ, the West and East can truly live out Christianity. A true Christian should naturally want to learn and respect other cultures.
It is a tremendous blessing to live and work with people from different backgrounds. I have business partners who are Chinese, Iranian, Indian, Filipino, and African, and neighbours who are American, Canadian, Japanese, and Mongolian. When I fellowship with Iranian business partners, I learn what community means. Their lives are tightly linked together. When I spend time with Filipino friends, I learn what humbleness means. When I work or study with Westerners like Canadians and Americans, I learn what honesty means. The international world is rich in blessings from God.