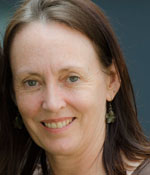 Claire Russell
(DipCS '09)
Originally from New Zealand, Claire Russell now lives in the beautiful city of Chiang Mai, Thailand where she works as a nurse with Partners Relief & Development, a Christian NGO that helps communities impacted by the war in Burma. In her health education role with young people, Claire trains medics on the Thai/Burma border who hope to go back to their rural communities in Shan State, Burma to build a health system where none exists.
In our Thailand-based offices, the differing Christian worldviews intersect between those of us from the West and those from indigenous ethnic groups inside Burma—namely the Karen and Karenni. We work well together in our vision for creating free, full lives for the children of Burma.
In the communities we work with on the border, differences exist as to how health beliefs are informed. The Christian Karen and Karenni often explain occurrences of ill health or tragedy as having causation solely in things spiritual, whereas in the West, we may be more pragmatic or integrated about them. For example, a recent fire broke out in a refugee camp and the Karenni Christians who were affected attributed it to God as punishment for sin or living an unfaithful life. On the one hand, this worldview acknowledges the intervention of God in all of life, but on the other hand, if physical illness or devastation is seen solely as a spiritual problem, this can disregard the need for human intervention. I have witnessed this lack of imperative to make a difference in someone's health state because his or her condition is attributed to something beyond the human sphere. In this way, the Buddhist context of the region and concept of karma have likely influenced the Karen and Karenni who often view human action as somehow separate or even antithetical to God's plan. While there are some people in the West who may think similarly, we would tend to see our action as being the hands and feet of God, which places on us an onus of care.
What has been interesting and deeply rewarding has been the way the team comes together and is able to appreciate each other's differences in theology. We also work with people of other faiths. To experience working together while embracing one another's differences has been hugely transformative for me as we focus on defining ourselves not over or against the other, but in light of our love for one another, God, and those we serve.