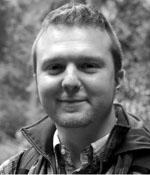 Brett David Potter
(MCS '09)
Brett David Potter is a video artist, musician, and writer based in Toronto. He is currently a doctoral candidate at the Toronto School of Theology exploring beauty, truth, imagination and wonder from a theological perspective. He completed a BFA in Film and Video Production from York University with a concentration in experimental/alternative cinema, and graduated with an MCS in Christianity and the Arts from Regent in 2009. His video works have screened at Scotiabank Nuit Blanche (Toronto), the Flickerings Festival (Bushnell, Illinois) and the Blackwell Gallery (Mississauga). When not immersed in the world of academia, he can be found at home spending time with his wife and daughter, drinking coffee, blogging about art and culture, or strumming a banjo. Visit his blog here.
A concept of increasing importance for my art and life these days is improvisation. It connects to my background playing jazz, where a group of musicians come together "in the moment" to unfold new sonic and melodic possibilities around a common theme. As Bruce Benson points out, improvisation is not creation ex nihilo but involves an ongoing process of appropriation ("making one's own") and interpretation. As humans, we work with what we are given, creatively reshaping the material and cultural resources that surround us. This use of pre-existing forms isn't a limitation on creativity, but (just like jazz) is precisely what animates artistic making and remaking.
In my art and academic work, I try to improvise on themes in a way that both inhabits a tradition and pushes it in new directions. My interest in video art, music, and writing starts with the idea of working with what's before you to create something new. In the past, this has involved using "found footage" from Hollywood films to retell the stories of the saints; making music out of feedback loops; and apocalyptic collages of texts and images. My current video project deals with our experience of time—another human "given." By shooting the same location every day, I hope to invoke a landscape invested with memory, for even our perception of nature is a kind of appropriation where we make the world our own through our personal experiences.
Improvisation is also a theological concept. The Christian life is a spontaneous response "in the moment" to revelation within the "community of improvisers" that is the church. Responsiveness, being present, openness to new explorations—these are key aspects of an improvisatory theology of art and culture which sees human making as a mysterious response to the triune God's activity of making—and remaking—the world.