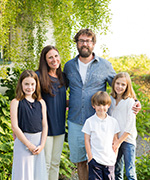 Ben Keyes and Nickaela Fiore-Keyes
(DPCS '07)
Ben Keyes and Nickaela Fiore-Keyes have been at L'Abri in Southborough, Massachusetts for eleven years and Directors since 2016. They attended Regent College from 2005–2007. They have three children: twin daughters, Ellie and Abby, and a son, Noah.
L'Abri communities are intentional study centers located in Europe, Asia, and America where individuals come to seek answers to questions about God and the significance of human life. Students—ages 18 to 70—come for two weeks to three months, live in large houses, study four hours per day and assist with household chores from cooking to wood stacking for another four. Up to twenty students and eight L'Abri workers are together at one time.
We spoke with Ben and Nickaela about living in a very intentional community.
Regent College: L'Abri is an unusual community in that a few of you are there permanently, but students come in and out to study for different lengths of time. How do you maintain connectedness as you live in both an ongoing community and a fluctuating one?
Ben: Students who come only experience short-term community but they do experience something authentic while they are here. For those who live and work here, students can't be our community. It is really important to have a circle of friends who are outside L'Abri, who understand the kind of life we are living but aren't connected to it.
What makes that outside circle so important?
Nickaela: I think of it as scaffolding. We knew before we came to L'Abri that we had to maintain outside relationships. We would have to be involved in the church, and we would have to have "regular" people, doing regular lives, so that we kept in constant touch with what is going on outside of the work of L'Abri. We have a group of eight that we have dinner with once a month and we do other things together as well. We do life together.
Ben: Working in L'Abri is reality on fast-forward, on steroids. You get to know people relatively deeply and relatively quickly compared to how we get to know people outside L'Abri. To have that dynamic as your primary community is actually quite destructive—a recipe for burnout. Obviously we want to love and care for people who come—we can't just be poles—but we also can't be everybody's best friend and survive.
Nickaela: I think it is possible to do our L'Abri work well because we have a depth to our relationships outside our work here.
How are you intentionally maintaining relationships with the other workers within the community?
Ben: Without being intentional, it tends not to happen just because we are all so busy. Interaction becomes just about work. So, we try to be intentional. We eat together—just us—every Monday evening, and pray together. We have Happy Hour when every term is over, just to have fun together. At our staff meeting we pick a name out of a hat and commit to praying for that person during the week.
Nickaela: Ben and I have also begun checking with one other worker each week. We give them a glass of wine and ask, "How are you doing? How are you?" What we have seen is that people stop communicating, and they become resentful of one another. They create an illusion of what others are doing and thinking. It becomes toxic.
We saw this recently. One of the workers runs morning prayer three days a week at 7:15 am. She was going to stop because she just didn't see that it mattered for our work. And we all were like, "What? Of course it matters! For many it is a significant part of their time here." It is so important that we tell each other, "You're seen. I see what you are doing and you are doing good work!"
Can you give me an example of a student or worker who has been strongly shaped by community?
Ben: At L'Abri, we believe that the Christian belief should be worked out and modeled—in very tangible ways. Students deserve to see us living like it's true and part of this is played out in what we call "institutional weaknesses. " An example is that we choose not to fundraise, advertise, or recruit staff. Instead, those are all items of continual prayer, and they have been huge shaping influences for people who work in L'Abri. Just take the finances: the fact that we would be able to turn on the lights [demonstrates] that for years and years and years God has provided. The students who come, even for a short time, see that—and they are quite moved by it.
How has living in community over a long period of time changed each of you?
Nickaela: I think one thing for me is the use of time. I am so motivated by efficiency, to see results of my day. There is that place in C.S. Lewis's Screwtape Letters when Screwtape says, "Just tell them that time is their own." I see how indignant we become when our time is "taken." For me, [it's important to find] the space to be okay with the interruptions, [to see] that our calling really is the interruptions—the shaping of our lives to see that God sees us.
Ben: For me (and Nickaela will laugh because I haven't changed that much), well, my tendency is toward conflict avoidance. One of the things living in community has taught me is, with the other workers in particular, you can't sit on things and have relationships be healthy. You have to have those difficult conversations, and then see the good things that come of it.
Nickaela: One more thing. Gregory Boyle in his book Tattoos on the Heart talks about, "the duty to delight." Whether that is working hard outside or cooking a meal or eating a good meal, God delights. We have a duty to delight in those things.
How has this been for your own kids growing up?
Ben: Depending on their temperament, kids have an easier or a harder time growing up here. I think there have been some really unhappy childhoods here. There has to be sharp distinctions. Kids need to know that the family is a coherent and separate thing and that it is a priority to their parents. That means intentional with boundaries—with a day off and spending time with each other, but also with physical boundaries. You need to be able to go into your apartment and close the door.
How do you see living in L'Abri as a vocation, as opposed to living in community as a vocation?
Ben: Living in community should be the vocation of every Christian, every person. I just don't think people thrive when they are not doing that. We see so many people who don't—whether they are transient or just prefer life in front of video games all day long. If a church can function as a community, that's awesome, but it doesn't always happen.
Nickaela: For the introverts amongst us, I see that people have many misconceptions about what it is to be hospitable and have people in your home. Everyone needs time alone. But all people can do something! You can invite your neighbours for a simple dinner and if you do it enough, they will come, they will eventually know each other.